London cop investigated for racism after row with pro-Kurdish protester (VIDEO)
Published time: 26 Sep, 2016 14:52
Edited time: 27 Sep, 2016 15:34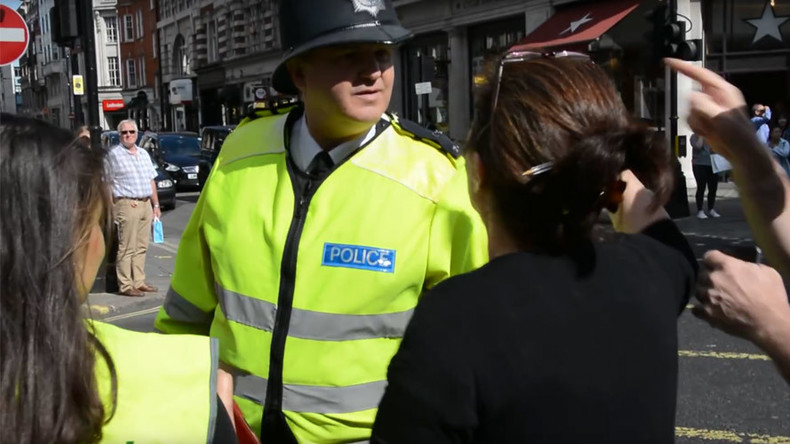 A London police officer is being investigated by Scotland Yard for alleged racism after he told a pro-Kurdish protester, "You don't tell me what to do in my country" during a verbal confrontation with demonstrators.
Veteran Metropolitan Police constable Marcus Tyson has been placed on restricted duty pending an investigation into an incident during a protest by a Kurdish community group in central London last month.
Video footage on YouTube shows a small group of protesters heckling Tyson, shouting "get out of here" and "f**k the police." Tyson, who has worked as an officer for nearly 29 years, can be heard saying "You don't tell me what to do in my country," after being confronted by a female protestor believed to be one of the organizers of the event.
The activist lodged a formal complaint to Scotland Yard on August 20, six days after the protest during which demonstrators demanded the Turkish government free Kurdistan Workers' Party (PKK) leader Abdullah Ocalan, who has been in prison since 1999.
During the protest, the group can be heard chanting messages of support for the PKK, which has resumed its three-decade battle for Kurdish independence after calling off a ceasefire last year.
Editor of Telgraf Newspaper, Aladdin Sinayic, who filmed the video, told RT that Tyson had pulled on the arm of the female protester and pushed one of the paper's reporters.
"When an ambulance was trying to pass, a young girl which was one of the organizers helped to open a space for the ambulance to pass, she did it and she was on the corner of the road. Then this police officer pulled her back from her arm severely hard and she was shocked and she did not understand why the police officer did that," he said in an email.
"When demonstrators saw what the police officer done to young girl, they started to criticize him of his action but he started to be very rude to everyone and even used 'f*** you' a few times to ladies."
Meanwhile Tyson, currently on sick leave for stress, has hit back at Scotland Yard, saying that "political correctness has completely overtaken the decision-making process as to how this investigation is to proceed. It is highly prejudicial to have put me on restricted duties."
"I would like to know upon what basis they regard my statement as being racist — it is purely a statement of fact that this is my country," he told the Sunday Times.
"The action the DPS [directorate of professional standards] have taken against me is so wildly over the top, it discredits the investigators and brings their judgment into question," he added.
A Met Police spokesman confirmed the investigation but would not comment on the incident.