Not so fast, Boris! Theresa May says Brexit timetable is her choice, not Foreign Sec's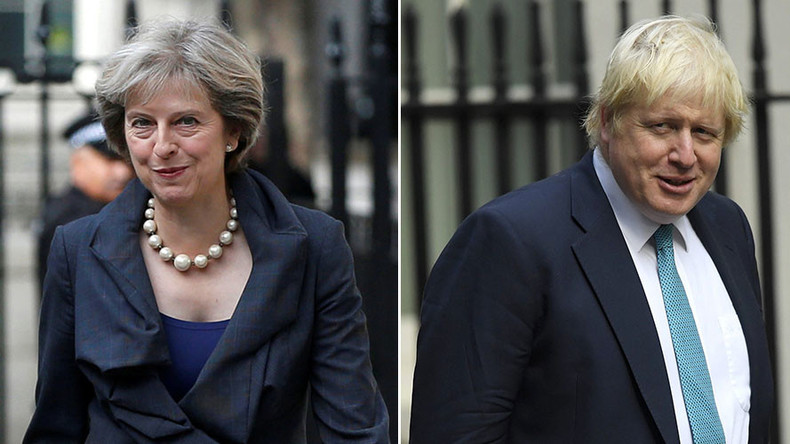 Prime Minister Theresa May has very publicly contradicted her Foreign Secretary Boris Johnson's statement that the process of Brexit could start as soon as early 2017, insisting the decision to leave the EU is solely her own.
In their latest public spat, May's office was forced to clarify remarks made by Johnson in New York on Thursday, where he indicated the government could trigger Article 50 early next year.
"The decision to trigger Article 50 is hers. She will be doing it at a time when she believes it is in the best interest for Britain," Downing Street sources said on Friday morning.
"The prime minister's position has not changed."
While in the US to attend the UN General Assembly, Johnson said the UK will "probably" begin Brexit talks early next year and wrap them up by 2019.
The foreign secretary was optimistic an agreement could be reached before the two-year deadline, leaving Britain able to control its borders and create a "jumbo free trade deal."
Controversially, he also said the UK would be able to retain access to the bloc's single market, while at the same time restricting freedom of movement – something seen as a red line by European leaders.
"What we're doing is talking to our European friends and partners now in the expectation that by the early part of next year you will see an Article 50 letter," he told the BBC.
"We will invoke that and in that letter I'm sure we will be setting out some parameters for how we propose to take this forward.
"You invoke Article 50 in the early part of next year. You have two years to pull it off. I don't actually think we will necessarily need to spend a full two years but let's see how we go," he added.
In a statement that will infuriate some EU leaders, Johnson also described the demand that Britain must accept free movement of people if it wants to stay in the single market as "absolute baloney."
"The two things have nothing to do with each other and we should go for a jumbo free trade deal and take back control of our immigration policy."
Johnson said it in the "overwhelming interest" of the EU to give Britain a favorable Brexit deal, which allows it to control migration while retaining access to the single market.
His remarks come two weeks after a top Czech minister warned Britain's approach to Brexit negotiations is "completely unrealistic."
State Secretary for EU Affairs Tomas Prouza said British ministers demonstrated a lack of understanding over the EU's 'four freedoms' - the free movement of labor, goods, services and capital.
"They will have to give up on some things. The very basis of diplomacy is reciprocity, and that's something they need to understand," he said.
This is the second time Johnson and May have publicly contradicted each other on key policies.
Earlier this month, the two appeared to be split over Saudi Arabia's alleged war crimes in Yemen, with May pressing Saudi on the issue of human rights and Johnson insisting there was no evidence of war crimes.
You can share this story on social media: