Thug jump-kicks homeless man in 'disgusting' attack (VIDEO)
Published time: 22 Sep, 2016 15:08
Edited time: 25 Sep, 2016 14:16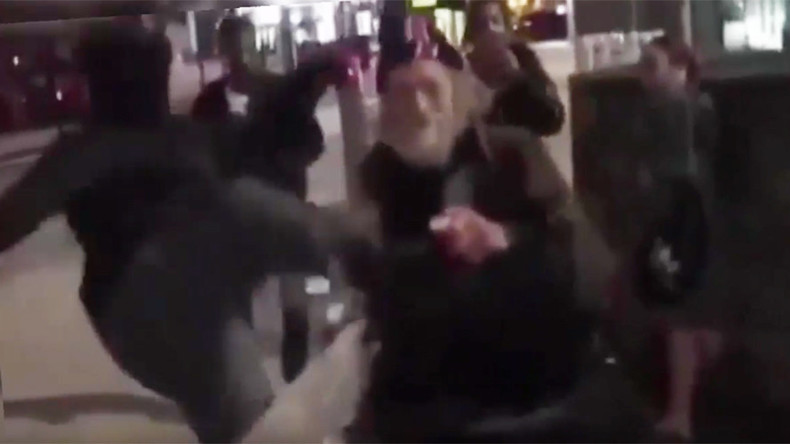 Police have released shocking video footage shot on a mobile phone showing a thug attacking a homeless man on the street.
The unprovoked attack took place in London outside the Stratford Centre in the east of the city.
Detectives say they are now trying to discover the identity of the victim.
In the video, which is being widely shared on social media, an elderly homeless man with gray hair and a beard is surrounded by a group of youths.
One of the young men then runs up and jump-kicks the elderly man in the side, sending him plummeting to the pavement.
Bystanders can be heard laughing before the video cuts out.
At first it was thought the video was taken at a Black Lives Matter protest in Charlotte, North Carolina in the US.
Some social media users retweeted the video with the hashtags #CharlotteProtest and #CharlotteRiot and incorrectly blamed the attack on "black thugs." Trouble started in the US city over the latest killing of a black man by police on Tuesday.
However, it is believed this unprovoked attack took place outside the Stratford Centre in east London.
Twitter users expressed their shock and disgust at the attackers.
Homeless man brutally kicked in horrific London attack ,,, has anyone seen this short clip ?? Hope the attacker rots in hell !!!!!!!

— mick the guvnor (@northshawmick) September 22, 2016
A Met Police spokesman said: "Research is being carried out to see if this is an offense that has previously been reported, or if a new investigation will be started.
"Officers will also be carrying out enquiries at the suspected location.
"At this early stage there has been neither a victim identified, nor a date for the incident and there have been no arrests."
"Newham Borough officers are investigating and enquiries continue."