Johnson admits Russia's needed to end Syria war during first face-to-face with Lavrov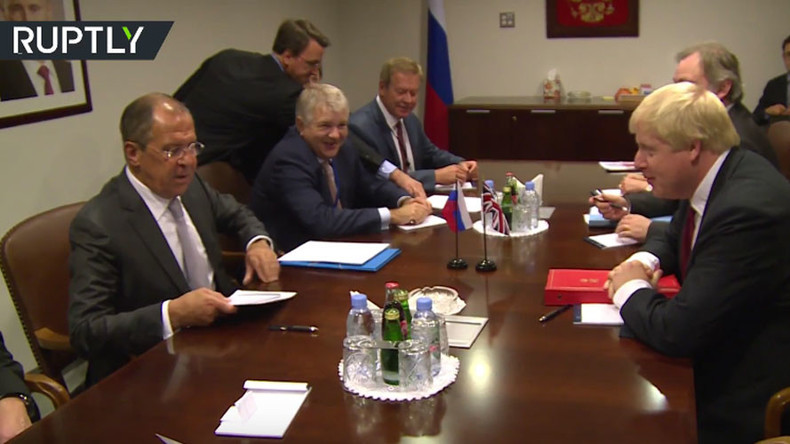 British Foreign Secretary Boris Johnson has admitted the civil war in Syria will only come to an end with Russian involvement after meeting with his counterpart from Moscow for the first time.
In a tweet posted after his face-to-face meeting with Russian Foreign Minister Sergey Lavrov, Johnson said "only #Russia can bring #Syria conflict suffering to swift end."
The meeting took place on the sidelines of the 71st UN General Assembly in New York.
During the discussion, the ministers discussed the Syrian civil war and the situation in Ukraine, according to a Foreign Office spokesman.
The meeting got off to a relaxed start, with Lavrov joking with Johnson about the number of reporters in the conference room.
"It's great our meeting is attracting media attention," Johnson said.
"I'd say we definitely won't be able to get rid of them… They hope we will start discussing some secret information," Lavrov joked in reply.
A UK Foreign Office spokesman said Johnson insisted it is right for Britain and Russia to continue to discuss important global issues.
"The ministers discussed the crisis in Syria and the increase in violence in recent days, including the recent unacceptable attack on an aid convoy.
"The foreign secretary pressed for Russia to use its influence constructively and underlined the need for the international community to work together to resolve the conflict.
"The foreign secretary was clear that while ongoing disagreements mean it is too early to normalize diplomatic relations, it is right that both countries continue to discuss important global issues," he added.
The United States has blamed Russia and Syria for deadly strikes on a UN aid convoy en route to Aleppo.
However, Moscow has denied Russian or Syrian warplanes were involved in the attack, instead suggesting Syrian rebels were responsible.
"All of the video footage demonstrates that the convoy caught fire, which strangely happened almost at exactly the same time as militants started a large scale offensive on Aleppo," Defense Ministry spokesman Igor Konashenkov said in a statement Tuesday.
The strike took place days after the US – with British assistance – attacked Syrian forces as they battled against Islamic State (IS, formerly ISIS/ISIL), killing more than 60 troops. Washington has insisted the attack was an accident.