RT talks to Iraqi Christian deacon forced to fight deportation as thousands join march for refugees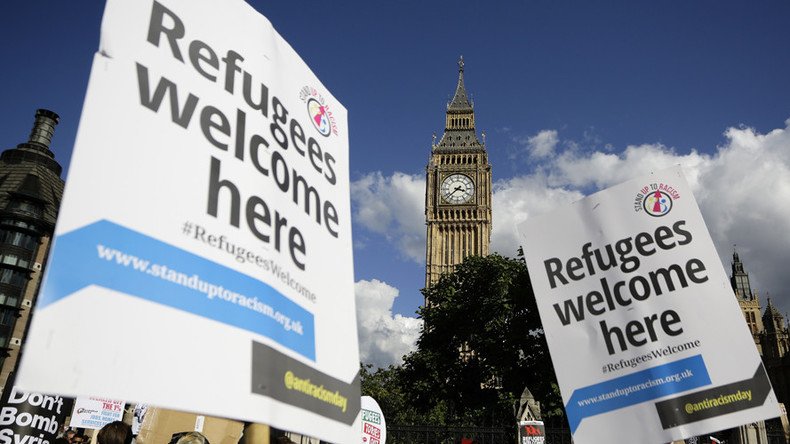 An Iraqi Christian who fled Islamic State executioners in Mosul says he faces 'slow-motion genocide' if deported from Britain. He spoke to RT as thousands prepare to march in central London, demanding Prime Minister Theresa May do more for refugees.
Sarmad Ozan, 25, who was a deacon at his church in Mosul before Islamic State (IS, formerly ISIS/ISIL) seized the city in summer 2014, is appealing a Home Office decision to deny him asylum.
He was rejected despite evidence of the widespread persecution of Iraq's Syriac Orthodox Christians and a bloody sectarian war.
"I'm still appealing because it's impossible to go back to a place with nothing. Our house is taken by ISIS. Everything taken by ISIS. Even our neighbors are now supporting ISIS," Sarmad told RT.
"It's like someone going back to die. That means if they want to send me back, they want to kill me."
Thousands are expected to march to Parliament Square on Saturday, September 17, to demand the British government do more in response to the global refugee crisis.
Vulnerable asylum seekers like Sarmad instead often face a culture of disbelief and incomprehension when processed by the Home Office.
"They call it a slow-motion genocide for the Christians inside Iraq," Sarmad explains, recounting the rise of sectarian killings that followed Britain and America's disastrous 2003 invasion.
"They are killing them day after day, 10 people in one day. Or maybe they will bomb a church. From 2003 until 2014 they used to bomb churches inside Mosul. They killed bishops and priests inside Mosul and even Baghdad and everywhere in Iraq. And the government cannot do anything for them."
"The situation there is unsafe and unstable. Even the Home Office admit that it is unstable inside Iraq and don't advise anyone to travel to Iraq, but they want us to go back."
Human rights NGOs have condemned Britain's failure to take its fair share of refugees fleeing conflict and repression. They have also alleged a number of failings in the government's asylum processes, including outdated and misinterpreted country profiles, a lack of resources and poor training.
Speaking to RT ahead of Saturday's demonstration, Asylum Aid spokeswoman Zoe Gardner said Britain is failing to pull its weight, instead spending ever greater sums of money keeping refugees out, including the recent decision to build a concrete barrier around the port of Calais.
"If someone has fled ISIS from Iraq or somebody has fled Sudan and the repressive government there, and they've crossed deserts and they've ridden in trucks and they've escaped human traffickers and they've possibly experienced sexual assault along the way and they've crossed the Mediterranean and they've slept in lorries and they've arrived in Calais and we've built a five meter wall – is that going to be what stops them? No. But that's what gets a good headline for the government, 'we're being tough, we're building a wall,'" said Gardner.
"It doesn't do anyone any good, it doesn't help, it costs a lot of money to the taxpayer and that money could be better spent on well-functioning, humane systems to work out who these people are and how we can help them."
Gardner further criticized Britain's poor humanitarian contribution, especially compared with its military commitments.
"The UK is now the second-biggest arms dealer in the world and two-thirds of the arms we've been selling since 2010 have gone to the Middle East. So we're number two in terms of arms dealers but we don't even make the top 50 in terms of refugees per thousand population. We're not even close, actually.
"So our priorities in terms of how we intervene in the Middle East and in other unstable regions seem to be very much skewed towards war, guns, death, bombs, drones. These things make a lot of money for a lot of very powerful companies.
"I think it's pretty stark when you see how much we are contributing to the instability globally and then how little we are willing to pick up the pieces."
RT has approached the Home Office for comment on its refugee policy. It is yet to respond.
You can share this story on social media: