Half of Calais 'Jungle' camp migrants want to stay in France - charity chief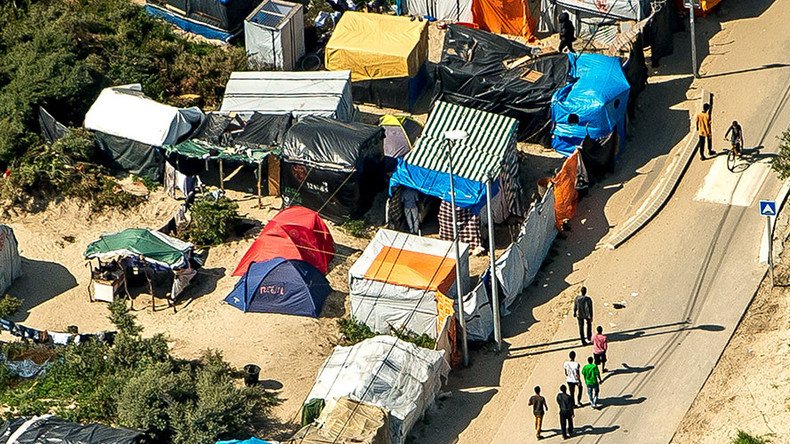 Half of all migrants in the Calais 'Jungle' camp have no interest in traveling to Britain and want to remain in France, the head of a French charity claims.
The findings undermine claims by French politicians that Britain bears responsibility for the camp in Calais, where as many as 10,000 refugees and migrants live in tents and temporary shelter.
High-profile figures including former President Nicolas Sarkozy have argued the Le Touquet treaty, which allows Britain to manage its border in Calais, should be changed.
Sarkozy, who intends to run for president again next year, has vowed to renegotiate the treaty if elected.
However his claims appear to no longer reflect reality as the makeup of the camp changes with each new wave of migrants.
French newspaper Le Monde reports a "change in the function of the camp which is no longer the antechamber for Great Britain but a waiting place for migrants, the majority of whom want to stay in France."
Francois Guennoc, deputy chairman of the Calais charity L'Auberge des Migrants, told the Times there are three factors behind the change.
First, there are fewer migrants from countries such as Afghanistan with historical ties to the UK. Second, increased security had made crossing the English Channel too complicated for migrants who lack funds to pay traffickers.
Finally, French police are cracking down on homeless migrants in other cities, forcing many to flock to the Jungle where "they get a tent, clothes and one meal a day."
Guennoc's charity is currently undertaking a census to find out how many of the camp's migrants want to go to the UK and how many want to stay in Calais.
"My guess is that the results will show that it's about 50-50," he said.
Many of the new migrants are from the Horn of Africa.
"I left my country because it is dangerous," said Yagoub El Zaky, 30, from the war-torn Darfur province of Sudan, who has spent two months in the Jungle.
"I am a refugee and I want security. Italy is no good. In Italy, the police beat us with sticks. But in France I feel protected. When I reached France, I wanted to stay. Life is difficult here but in Sudan there are many more problems."
The findings come days after Britain announced it would build a 4-meter (13ft) wall to run for 1km (0.6 miles) around the migrant camp at a cost of £1.9 million ($2.52 million).
The 'Great Wall of Calais' is being built to keep migrants and refugees away from the port, where some attempt to hide in trucks and other vehicles crossing the Channel to the UK.
You can share this story on social media: