British 'white widow' reportedly training women jihadists to attack West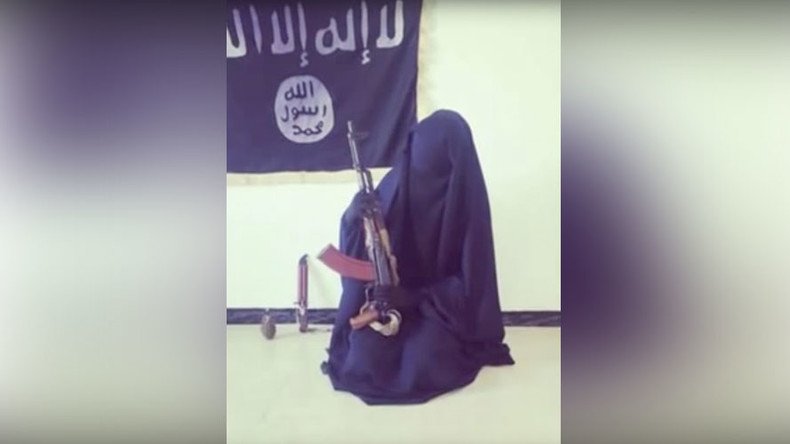 British 'jihadist bride' Sally Jones is reportedly heading a new wave of all-female Islamic State (IS, formerly ISIS/ISIL) cells with their children in tow, helping them to prepare revenge attacks on the West.
The so-called 'white widow' is a former punk rocker from Kent who converted to Islam and traveled to Syria with her 11-year-old son Joe 'JoJo' Dixon to marry terrorist hacker Junaid Hussain. He was killed in a US drone strike in Raqqa last year.
Jones, 47, has apparently since been leading the female wing of the Anwar al-Awlaki battalion, which is made up of foreign fighters and designed to carry out terrorist attacks abroad.
Jones, who now goes by the name of Umm Hussain al-Britani, trains the soldiers in combat and strategies for "suicide missions against western targets," according to an IS defector who spoke to the Mirror.
"Umm Hussain is also influential in her own right," the defector added.
"Since she was the reason ISIS was able to recruit a lot of Western girls to Raqqa: it's not easy to convince a Christian, rock girl to become an extremist.
"ISIL respects her because she is the widow of Junaid - who was very important to the group," he added.
"They want to send a message to their important fighters that they will respect their families and guarantee a good life for them after their death."
Terrorism advisor Michael S Smith told the Telegraph he was not surprised by her new role.
"Earlier this year, Sally Jones implied to me (on social media) she may be training female terrorists for deployment to execute attacks in the West.
"It is unsurprising that the Islamic State may be grooming female terrorists.
"The deployment of female fighters and suicide bombers, notably women whose male family members died while waging jihad, became a common occurrence after Abu Musab al-Zarqawi organized the group now called the Islamic State."
Last week, a British child assassin who featured in the latest IS propaganda video was reported to be Jones' son.
The video showed five children, including one blue-eyed boy named Abu Abdullah al-Britani, slaughtering a group of Kurdish prisoners.
You can share this story on social media: