55 Sikhs arrested following wedding protest at UK temple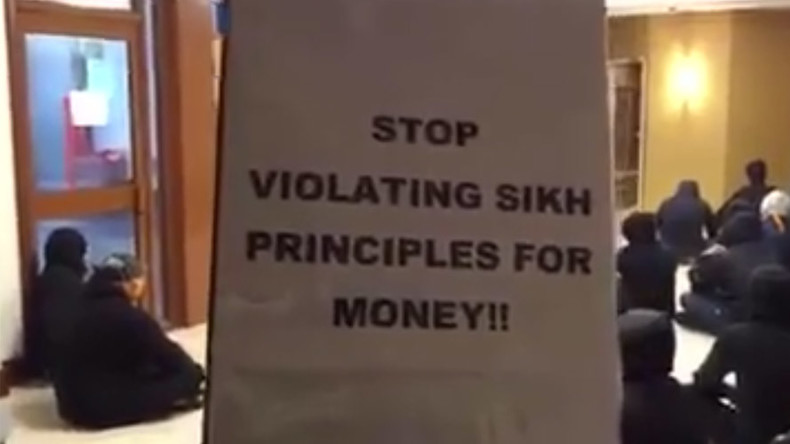 Police arrested 55 protesters at a Sikh temple in Leamington Spa on Sunday. They said numerous "bladed weapons" had been seized at the scene.
According to reports, the men entered the temple to protest an inter-faith wedding between a Sikh and a Hindu in a Sikh wedding ceremony known as Anand Karaj.
Armed police surrounded the Gurdwara Sahib early in morning, after receiving reports that a group had entered the temple. The men were arrested for aggravated trespass hours after the protest began.
"A significant number of bladed weapons were seized from the scene," Superintendent David Gardner said. "As a result of reports that the men were in possession of these weapons we deployed armed officers as a precaution. Nobody was injured in the incident."
Sikhs carry ceremonial daggers, kirpans, with them at all times, as per one of the pillars of Sikh faith. The Guardian reports all but one of the weapons seized were kirpans.
Negotiators and religious leaders entered the building during the protest to offer assistance to police.
An anonymous temple attendee who had been working at the kitchen at the time told Sky News that a group of men arrived early in the morning. "There was to have been a wedding here today, a mixed marriage, but it was clear that they didn't want it to go ahead."
"Then just before 7:00am the police turned up. Everybody is just shocked. This kind of thing is completely alien to us," he continued. "Some people said the men had come from as far as Manchester. We didn't recognise any of them."
'Sikh 2 Inspire' said it had staged a peaceful protest. Sikhs in the UK have previously protested the Sikh wedding ceremony being carried out for mixed faith weddings.
"The peaceful protests are about non Sikhs undertaking a Sikh religious ceremony in a Gurdwara which is not line with Sikh protocol," the group said in a statement.
"The Anand Karaj (Sikh Wedding ceremony) is one of a number of religious ceremonies in a Sikhs life, including birth, initiation (Amrit) and death. Each of these is built about Sikh practice, belief, hymns etc. If someone from a Sikh family wishes to marry someone from another faith, that is their personal matter but the religious ceremonies require both parties to be Sikh," it continued.
The group criticized the media's framing of the events, which claimed a group of "sword wielding" Sikhs stormed the wedding. "They don't have have an appropriate understanding of the Sikh community and have not found appropriate representatives from the Sikh community to balance the malicious viewpoints presented."
A Sikh Youth Birmingham group posted that they were protesting "violating Sikh principles for money!"
The group said the protest was peaceful, and the reaction was "totally uncalled for and unnecessary."
The Sikh Federation UK said the armed police response was "unnecessary."