Morning buzz! Vibrator alarm clock offering orgasmic wake-up call sells out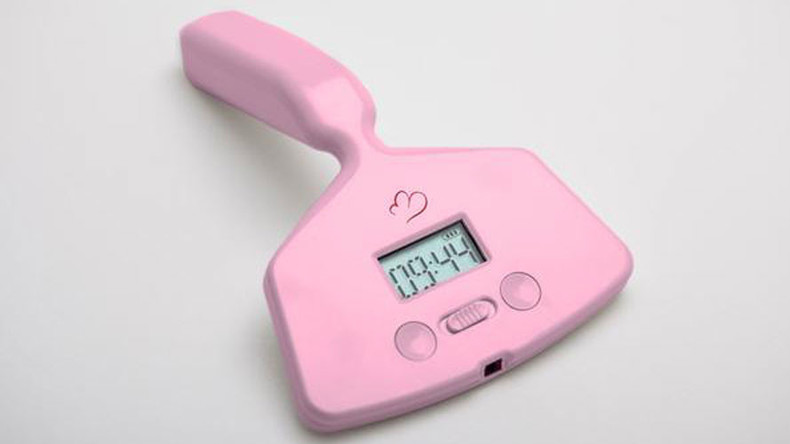 An ingenious new contraption that combines an alarm clock with a sex toy has proved so popular, the company that produces it has run out of stock.
The British-made Little Rooster, designed to wake women up by replacing the much-hated alarm bell with pleasurable vibrations, will not be available until at least October.
Sex trainer Charlotte Rose told RT that she believes this could help women suffering from certain sexual issues. She said "This looks like a great little device for women who may be suffering from low libido due to natural events such as menopause."
Priced at £69 ($92), the buzzing plastic gadget is meant to be placed in the user's underwear overnight. When it goes off, it will throb and vibrate until switched off. The vibrations, which begin gently then increase in intensity, are said to provide users with a gentle wake up call.
According to the Little Rooster's manufacturers, the device has 27 silent buzzing settings, and three loud ones, for really heavy sleepers.
Like any modern alarm clock, it even includes a snooze button.
"I used to fall asleep and miss my stop. I don't miss it now! Plus, my colleagues have noticed a change, but I haven't told them why," one user told the company.
Sex toys can be revolutionary too
Sex toys have recently become a political icon in the United States, after students at the University of Texas at Austin brought thousands of dildos to the campus as a protest over a new law allowing the carrying of firearms on the UT campus.
The Cocks Not Glocks campaign quickly became viral as pictures of young people holding rubber sex toys spread across social media. The movement originally started in 2015, when University of Texas alum Jessica Jin hosted a protest mocking the rules that prohibit sex toys on campus but allow guns.