'Man-child' Donald Trump is a threat to US national security – Salmond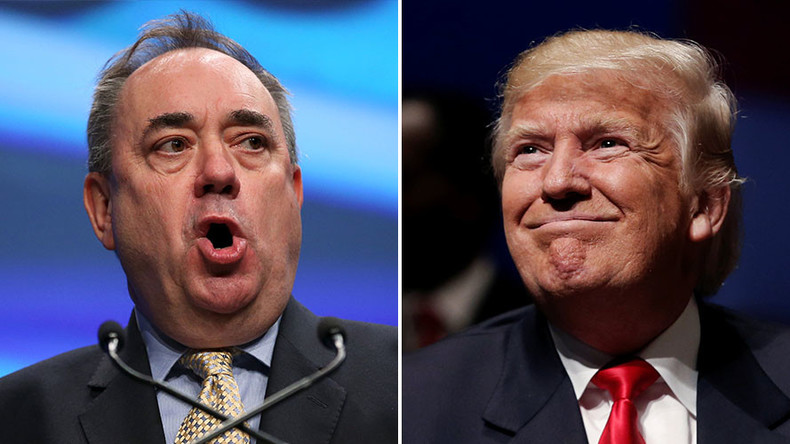 US presidential hopeful Donald Trump's lack of stability could threaten US security and gives Alex Salmond MP a serious case of the "heebie-jeebies," the former Scottish National Party (SNP) leader has claimed.
Salmond, who has regularly clashed with the Republican nominee, also branded him a "man-child" who presents "a real and present danger to the security of the American republic."
Scotland's former first minister said his past dealings with Trump regarding a controversial golf course had convinced him that a Trump presidency "should give us all the heebie-jeebies."
Writing in the Daily Record, Salmond said his old sparring partner was a "Peter Pan" who never grew up and that "it is an open question whether a demagogue is preferable to a genuine racist."
Salmond said the row over the Aberdeenshire golf course, which centered on a number of issues, including plans to build wind turbines, did not bode well for the man who might become the notional leader of the Free World.
Trump would "veer alarmingly from bonhomie, to bullying, to pleading and then back to a jocular mood" over the course of a single phone call, said Salmond.
"Imagine the consequences if similar phone calls were taking place from the oval office, not Trump tower, and the subject matter was not wind power but hard power – the use or deployment of military force and nuclear weaponry," Salmond warned.
Citing a past Democratic campaign to stop the 1964 election of radical Republican Barry Goldwater, Salmond recalled an advert which showed "a lovely young girl counting daisy petals from one to 10, which then morphs into a countdown to a nuclear strike from 10 to one. Its purpose was to highlight the danger of a Goldwater presidency."
He urged Democrats to reprise such tactics "because while many disgruntled Americans are still attracted to the Trump anti-establishment, anti-Washington, anti-big government rhetoric there are only a few who want to risk a man-child in the White House."