Florist shocked to find his picture in ISIS propaganda magazine
Published time: 7 Sep, 2016 11:34
Edited time: 8 Sep, 2016 13:20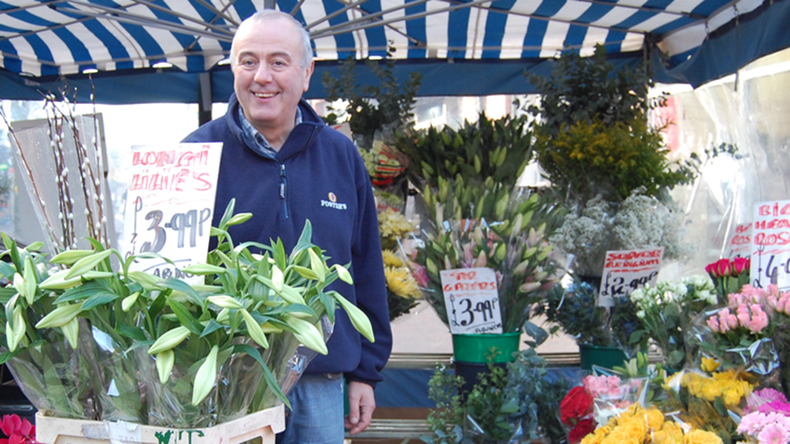 A florist from Manchester was mystified to learn that his photo had appeared in the pages of an Islamic State (IS, formerly ISIS/ISIL) propaganda magazine.
Stephen Leyland, 64, said he was shocked to discover his face in the publication because he does not know any "jihadis."
IS magazine Rumiyah appears to have taken the photo at random from the internet and then published it under a headline calling on extremists to take the blood of "kafirs," or non-believers.
The 38-page magazine features Leyland's photo alongside a caption encouraging IS supporters to take "even the blood of a merry crusader citizen selling flowers to passersby."
Counter-terrorism police interviewed Leyland on Tuesday about the publication, reportedly after Foreign Secretary Boris Johnson was informed about the magazine and asked what was going on.
The florist, who calls himself 'The Flower Man,' lives in Wilmslow, Cheshire, and counts wealthy locals and footballers' wives among his customers.
He describes himself as an "old-fashioned market trader" on his website and told the Times his appearance in the magazine came as a "bit of a shock."
"When I was first contacted I thought it was a wind-up. I really don't know what to do. I'm not scared but I am concerned that the photo is in this magazine," he said.
"I don't know any jihadis. My customers are the Alderley Edge crowd, footballers' wives and those sort of people."
In a lengthy article, published in English, the magazine says the "blood of the disbelievers is halal, and killing them is a form of worship to Allah."
Other sections include a profile of IS fighter Abu Mansur Al-Muhajir which urges extremists to launch attacks in Australia to avenge his death.
Australian jihadist Al-Muhajir, who was jailed in a 2005 plot to blow up the Melbourne Cricket Ground, died fighting for the terrorist group in Syria.
The magazine also features a list of 'top 10 jihadist videos' and a Q&A session with the leader of the 'Central Office for Investigating Grievances.'