Newborn baby punched in the head after 63yo 'mistook her for a toy doll'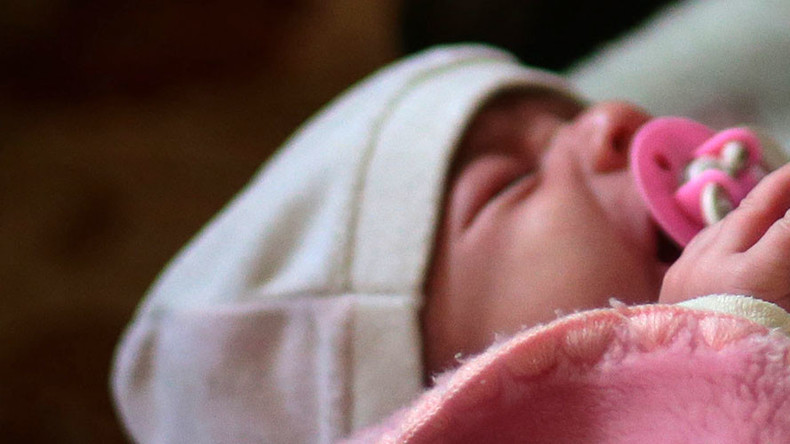 A 63-year-old Manchester man has been arrested after a five-day-old baby was punched in the head at a Tesco supermarket. He claims he "mistook her for a toy doll."
Elsie Duckers, who was five days old at the time and weighed just 6lbs 12oz, was tucked up in her carriage when she was approached by a man who overheard friends say: "Come and have a look at this beautiful baby."
The man then punched the newborn in the head. He claimed he thought the baby was not real and was a toy.
The baby was rushed to Wythenshawe Hospital where she was held for seven hours. She is not thought to have suffered any serious injuries.
Her mother Amy Duckers, 27, said the punch was so hard, "you could hear the connection as this man hit Elsie."
She told the Daily Mail: "He left her with a huge red mark and we at first were just stunned. He then began denying anything had happened, despite the crying children and visible imprint on Elsie's face and I just went hysterical, asking what he just did, why he hurt my baby."
Duckers says it was Elsie's first trip out of the house since being born, and now she is too frightened to take her out again.
"I was pushing Elsie, then five days old, around in a small Tesco trolley. It was my first trip out with her, So I was a little nervous, but we weren't far from home.
"I just can't believe it - especially as it was on a five-day-old baby.
"My seven-year-old was there and saw everything, and she was just screaming. She thought he'd killed the baby. I don't want anyone to touch Elsie ever again. I literally can't get my head around why someone would do this."
Greater Manchester Police stated: "A man has been arrested on suspicion of assaulting a baby.
"Police were called shortly before 6:45pm to a supermarket on Altrincham Road in Baguley on Monday to reports of a child having been hit.
"The baby girl was taken to hospital as a precaution and has since been discharged.
"A 63-year-old was arrested on suspicion of assault and is currently in custody being questioned by officers."