Radical UK cleric Anjem Choudary jailed for 5.5yrs for supporting ISIS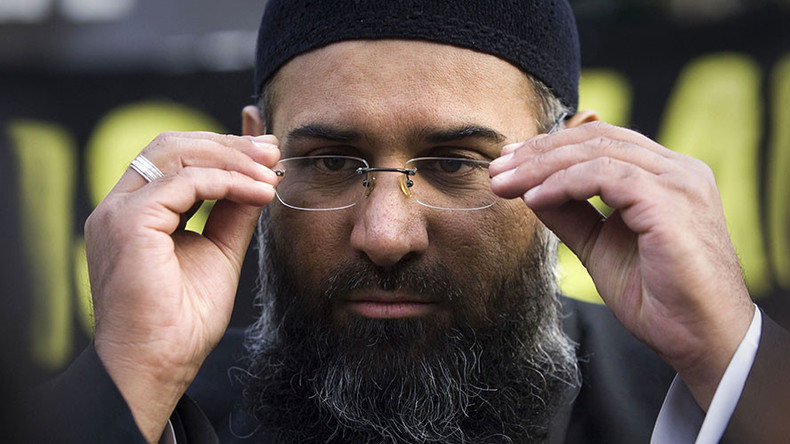 Hate preacher Anjem Choudary has been sentenced to five-and-a-half years' imprisonment after being convicted of drumming up support for Islamic State (IS, formerly ISIS/ISIL).
The 49-year-old British-born leader of outlawed group al-Muhajiroun posted a series of YouTube videos recognizing the "caliphate" created by IS in the territories of Iraq and Syria.
At sentencing at the Old Bailey, Choudary and his co-defendant Mohammed Mizanur Rahman, who received the same sentence, were found guilty of inviting support for IS between June 29, 2014 and March 6, 2015 and remanded into custody.
As Choudary was sentenced, his supporters in the public gallery shouted "Allahu Akbar."
During the trial, Justice Holroyde said the pair failed to condemn the barbaric acts of IS.
"You did nothing to condemn any aspect of what ISIS was doing at the time. In that way you indirectly encouraged violent terrorist activity.
"You are both mature men and intelligent men who knew throughout exactly what you were doing. You are both fluent and persuasive speakers."
He described Choudary as "calculating," while Rahman was simply a "hothead," albeit equally dangerous and remorseless.
Despite leading al-Muhajiroun, Choudary had kept on the right side of the law for 20 years.
However, his enthusiastic videos in support of IS gave police cause to arrest him under section 12 of the Terrorism Act 2000.
Details of the case could not be reported until last month due to legal restrictions.
Choudary and his organization have been blamed by counter-terrorism experts for radicalizing hundreds of people, including Michael Adebolajo and Michael Adebowale, who murdered soldier Lee Rigby outside Woolwich Royal Artillery Barracks in 2013.
Choudary was last seen in public while on bail in April, ordering a meal from a north London McDonald's. A picture of the sharia law-supporting preacher was released on Tuesday, showing Choudary holding a loaded tray at the counter.
"Considering he hates everything about the West, and is also meant to only eat at halal places, he is clearly a hypocrite. I had heard of this guy before and I was a bit surprised given what he preaches so I took a picture of it," a witness said.
"I live in Luton and he is often there preaching and I have seen him numerous times. There was a couple of people that also recognized him. He had a disagreement with someone there, but I don't know what they were saying."