Showboating: Royal Navy test-drives new 'Batman' drone boat on Thames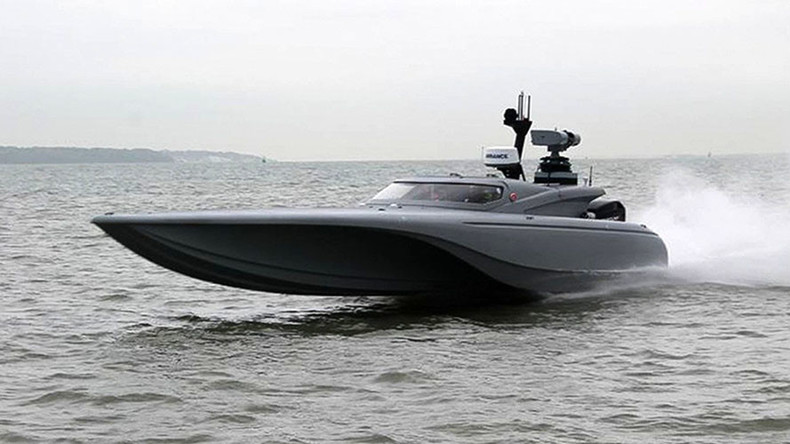 Military officials tested out their new prototype high-speed drone boat on the River Thames in central London on Monday afternoon in a PR stunt ahead of a major exercise.
The Bladerunner speedboat passed under Tower Bridge and London Bridge to promote the Royal Navy's Unmanned Warrior program, which draws in arms firms, academics and the military in an effort to find an edge in the field of naval combat.
The boat, which looks like something out of the Batman comic and film franchise, is just one example of a range of options being explored to serve the Royal Navy in the age of unmanned warfighting.
While the full Unmanned Warrior exercise will be taking place off the west coast of Scotland in October, the military has opted for a small promotional demo in the capital.
Unmanned Warrior will itself be a component part of the annual Joint Warrior exercise.
On the Royal Navy website the service says the purpose of the program is "to safely experiment and demonstrate the potential offered by maritime autonomous systems within the Joint Warrior operational environment."
The "multinational event" will see "around 40 companies and organizations showing off the latest technological developments in this field."
Also on the agenda are tests of new types of airborne and submersible drones including new remote controlled minesweepers.
Arms firms including BAE Systems and Northrop Grumman have taken a central role in the program.
News of the Thames test comes as it emerged the UK is now the second biggest arms dealer in the world.
An investigation by the Independent found Britain has sold weapons to 22 of the 30 countries on the UK's own human rights watch list.
Andrew Smith of Campaign Against Arms Trade (CAAT) said: "These terrible figures expose the hypocrisy at the heart of UK foreign policy.
"The government is always telling us that it acts to promote human rights and democracy, but it is arming and supporting some of the most repressive regimes in the world."