Male prostitutes & drug allegations force out Labour MP Keith Vaz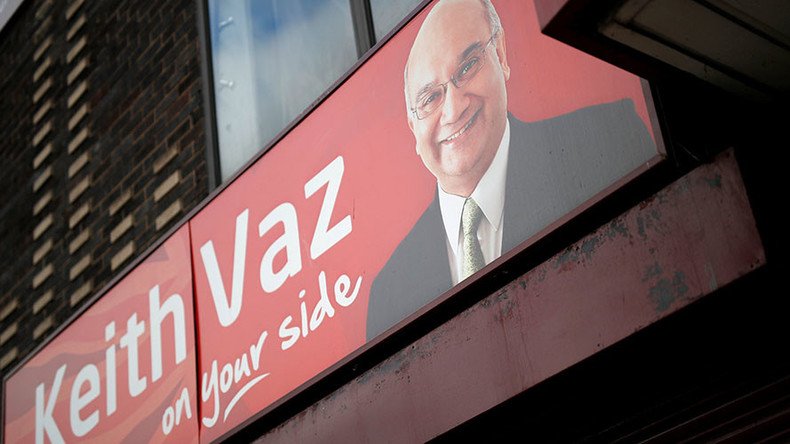 Labour MP Keith Vaz will relinquish his post as chair of the Home Affairs Select Committee following accusations he paid for the services of three male escorts and offered to buy them cocaine.
His role on the committee had given him enormous influence over vice and drugs policy.
Vaz, 59, said he would not be making a formal announcement regarding his resignation until he meets the committee on Tuesday, but appeared to confirm he will stand aside when he issued a statement saying he did not want to be a "distraction."
The married father of two was caught meeting two Eastern European male prostitutes and boasting about having unprotected sex, according to a Sunday Mirror sting.
He allegedly met the men at his North London flat on August 27, referred to himself as "Jim" and claimed to be a washing machine salesman.
One text, reportedly sent by Vaz, asked the men to arrive at "11pm, nice and late," also saying "I want a good time please" and telling the men they needed to "get the party started."
In other text messages, the Labour MP allegedly requested the sex-enhancing drug known as poppers, and also offered to buy the prostitutes cocaine, although saying he would not take any himself.
He also allegedly joked about being a "pimp."
Shortly before sexual activity, which is said to have lasted for 15 minutes, Vaz mentioned another recent encounter with another escort they knew, telling the men he had also sex with the prostitute.
The allegations are particularly awkward for Vaz, as the Home Affairs Committee is currently considering a review of prostitution laws. It is focusing on whether "the balance in the burden of criminality should shift to those who pay for sex rather than those who sell it."
In July, an interim report by the select committee said it was "not convinced" that buying sex should be outlawed and that soliciting by sex workers should be decriminalized.
"We are not yet convinced that the sex buyer law would be effective in reducing demand or improving the lives of sex workers, either in terms of the living conditions for those who continue to work in prostitution or the effectiveness of services to help them find new ways to earn a living," the report said.
"Evaluations of the impact of sex buyer laws are largely based on data about street prostitution, and therefore offer little insight into the large parts of the sex industry which take place in various indoor environments, and there are indications that the law can be misused to harass and victimise sex workers, who are the very people whom the law is seeking to protect."
According to the Sunday Mirror, Vaz asked one of the male escorts to bring poppers, a drug used during sex by gay men that the government came close to banning earlier this year.
Vaz argued in Parliament that poppers should not be included in a list of substances banned by the Psychoactive Substances Act.
The Sunday Mirror says two payments of £150 (US$200) each were paid into a bank account before the encounter after one of the escorts supplied the account details to Vaz.
The newspaper claims the money deposited into the bank account was paid by a man linked to Silver Star, a diabetes charity set up by Vaz.
A spokesperson for the Charity Commission said it was aware of the allegations.
Tory MP Andrew Bridgen said he would be urging the Charity Commission to investigate, and is calling for a full police investigation and parliamentary standards inquiry.
Bridgen says what had been exposed was "the tip of the iceberg."
As the story first broke on Saturday night, Vaz, the Member for Leicester East, said: "I am genuinely sorry for the hurt and distress that has been caused by my actions, in particular to my wife and children.
"I will be informing the Committee on Tuesday of my intention to stand aside from chairing the sessions with immediate effect."
Vaz also appeared to go on the offensive by condemning the conduct of the Sunday Mirror.
"It is deeply disturbing that a national newspaper should have paid individuals to have acted in this way."
He did not comment on the truth of the allegations, which were set out in the paper over five pages accompanied by pictures that appear to have been recorded covertly.
"I do not want there to be any distraction from the important work the Home Affairs Select Committee undertakes so well," he said.
"Select committees do vital work in holding the Government and others to account."
Labour leader Jeremy Corbyn appears to have dismissed the allegations, calling them a "private matter."
"Keith Vaz is going to meet the Home Affairs Select Committee and discuss what his role will be in the future. I'm not sure what his decision will be," he told the BBC.
"I will leave it to him to decide on that. He has not committed any crime that I know of."
In response to the scandal, Prime Minister Theresa May says the public must be able to have "confidence" in its politicians but stressed decisions on his future were a matter for Vaz.
"What Keith does is for Keith and any decisions he wishes to make are for him," she said at a press conference at the G20 summit in Hangzhou, China.
"I have always been clear throughout my political career that what is important for people is that they feel that they are able to have confidence in their politicians.
"That is what I think we all have a duty to provide for those who elect us."
Asked if Vaz should quit as chairman of the Home Affairs Committee, member and fellow Labour MP Chuka Umunna told the BBC: "I think we need to hear from Keith first and we are going to be meeting with him tomorrow.
"I don't want to say more than that, other than to say when you see things like this plastered across the front pages … you must feel terribly for his family. I've met his children and I can't imagine what the family are going through.
"I think we need to hear from him first and then we can decide with him the best way to move forward."
Labour leadership challenger Owen Smith declined to comment on the controversy surrounding Vaz.
On Monday, Vaz broke cover for the first time since the allegations emerged. He left his north London flat with his wife of 23 years Maria Fernandes, who appears to be standing by her husband despite the alleged sex scandal.
Almost 2,000 people have joined a Facebook group calling on Vaz to quit.
You can share this story on social media: