Labour purge sees disability campaigner pictured with Owen Smith suspended
Published time: 31 Aug, 2016 16:44
Edited time: 1 Sep, 2016 13:42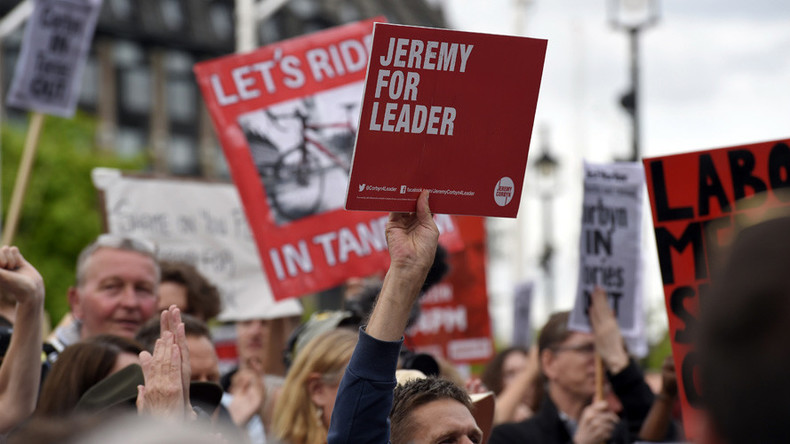 Disability rights campaigner Jae Robinson, who is the public face of Owen Smith's pledge to "champion disabled people," has been suspended from the Labour Party for publicly calling for Birmingham MP Jess Phillips to be deselected.
Meningitis survivor Robinson was told complaints had been made about alleged abuse in her social media posts, but no further information was given.
Nevertheless, she was handed an "administrative suspension," which stops her from voting in the upcoming leadership contest between Smith and Jeremy Corbyn.
Corbyn supporters claim they have been targeted by party officials to undermine support for the incumbent leader. The decision to suspend someone used to promote Smith's commitment to disability rights, therefore, is a little awkward for the challenger.
Robinson is not the first to be booted out of the Labour Party in recent weeks. Former Green Party supporters, elected councillors and union leaders, and even rock 'n' roll fans were told their membership was not wanted.
Trade unionist
Ronnie Draper, general secretary of Bakers' union BFAWU, found himself suspended from his party last week, leaving the leader of the 20,000-strong organization "disgusted and in shock." His union says he was "treated disgracefully."
Draper, like Robinson, is a vocal Corbyn supporter and he too was told the suspension was connected to comments made on social media. The party refused to comment on the incident.
"We call upon the Labour Party NEC [National Executive Committee] to immediately withdraw this suspension to allow the general secretary, who has been a lifelong member of the Labour Party and who represents thousands of low-paid workers across the UK, to exercise his democratic right to vote in the upcoming leadership election," an official BFAWU statement read.
Former council leader
Joan Twelves is a former Lambeth Council leader and a long-time Labour activist. On Monday she was advised by email she had been expelled from the party and accused of having stood against Labour.
The news came after Twelves won her appeal with the party's compliance unit over a similar incident that took place last year.
"It took me six months battling the party's Compliance Unit when I applied to rejoin the party last year after years of no political activity due to illness," she told RT.
"And it was only after I had successfully appealed that I was told the charges against me. I was therefore amazed and furious to discover one of those false allegations was being used again to expel me. I was given no right of appeal and told I could not reapply for five years."
She was later told to "disregard" the suspension, that her "voting rights have not been lost" and that she would "receive a ballot in the leadership election."
"I am uniquely placed to be able to reach out to friends at the highest levels of the party and my expulsion was withdrawn within hours. I have received an apology and my voting and membership rights have been fully restored. Others are less fortunate.
"This purge of members is making people ill and very, very angry. Any membership organization has the right to vet its members. But on the basis of openness, clear criteria and due process, not anonymous allegations about retweeted jokes and memes."
Labour councillor
Harrow Labour councillor Pamela Fitzpatrick was a fellow victim of the "purge" after being told she had been rude during a meeting.

"I've had two days of not being able to sleep or eat waiting to speak to the compliance unit to know the allegation but they won't say by phone," Fitzpatrick wrote on Twitter.
Despite trying for hours to find out under which allegations she had been suspended, the London councillor was unsuccessful, constantly being told "you've been suspended."
Alongside her suspension came a ban from all council activities.
Young People's Laureate
Sophie McKeand, Young People's Laureate for Wales, was refused Labour Party supporter status after the NEC found she had tweeted support for the Green Party.
Labour's supporter application process requires a £25 (US$33) fee and for people to confirm they "are not a supporter of any organization opposed" to the party. Her backers protested, noting that "the whole point was to win over voters who didn't vote Labour last time."
"If I agree with Green policies, why can't I agree with Labour too?" the poet from Wrexham said.
"If I want to vote Plaid [Cymru] one year I will, if I want to vote for Jeremy Corbyn I can. I want to reflect my socialist agenda. I want to see proper socialism so I'll vote for a variety of parties – but always on the left. These things shouldn't be mutually exclusive."
Foo Fighters fan
But perhaps the most ludicrous of all suspensions has been that of Catherine Starr, who was told she had posted "inappropriate content on Facebook."
The offending article, she was informed, was shared on March 5, but all Starr had posted that day were posts about veganism and animal cruelty-free cosmetics. She had also shared her fondness for a US rock band, posting: "I f*****g love the Foo Fighters."
The 33-year-old is another open Corbyn supporter.