Notting Hill Carnival: 4 stabbed, 105 arrested as twerking cop parties with women (PHOTOS, VIDEOS)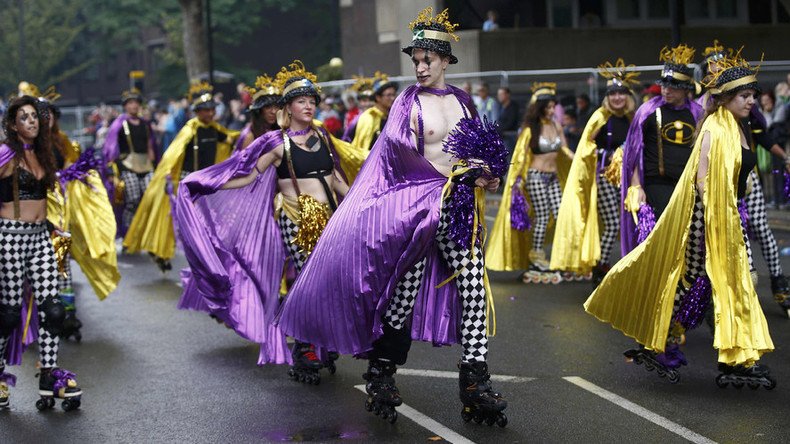 London's Notting Hill Carnival is celebrating its 50th anniversary, but among the colorful costumes and vibrant music have been four stabbings – one of which left a 15-year-old fighting for his life in hospital. Over 400 people have sought medical help.
The annual event, aimed at celebrating Caribbean culture, took a violent turn at around 4:25 p.m. local time on Sunday, when emergency services were called to a stabbing at Wornington Road. The 15-year-old victim was rushed to hospital, and another man was arrested on suspicion of causing grievous bodily harm.
Just minutes later, police were called to a fresh stabbing on Notting Hill's iconic Portobello Road.
Less than an hour later, two more men were stabbed at Ladbroke Grove. They were also taken to hospital.
As of midnight Sunday, the London Ambulance Service said it had treated 411 patients for various injuries, and taken 77 to hospital, AP reported. It tweeted a photo of paramedics setting up extra beds along the street as its treatment center became overwhelmed.
Police said 105 people had been arrested by the end of Sunday, for reasons that included drug possession, carrying knives, assault, sexual offenses and theft.
Metropolitan Police tweeted a photo of nitrous oxide canisters and alcohol seized by officers at the carnival.
A heavy police presence is deployed each year at the event, which has a reputation for being the scene of violence and clashes. But this year, it appears some of the 7,000 deployed officers are enjoying the party more than patrolling the streets.
One video posted on YouTube shows an officer dancing sexily with a number of female festival-goers.
He smacks the buttocks of one woman, and even pins another to the ground as he gyrates against her body.
WARNING: SOME VIEWERS MAY FIND THE VIDEO DISTURBING
Another video showed a separate officer fanning himself with his hat as two women 'twerked' against him.
Some of the officers' dancing was, at least, a little more innocent.
Of course, twerking seemed to be the theme of the videos emerging on social media, among both police and festival-goers.
But some had less rhythm than others.
Not one to be left out, Pikachu – from the Pokemon series – also joined in on the twerking action.
Even young boys took part, dancing with girls twice their age.
But there was, of course, still some good old fashioned fun going on – including dancing on stilts.
And colorful parades through the streets.
This year's event will continue to take place Monday, which is a bank holiday in the UK. The festival is celebrated on the same holiday weekend every year.
Founded in 1966 by West Indian immigrants, the Notting Hill Carnival – the world's second-largest carnival and Europe's largest street music festival – has long been known for violence and clashes with police. Many local businesses have closed for the duration of the event since 1977, when police stormed the festival amid a looting of shops. The 2008 festivities ended in a street riot. Last year, 407 people were arrested, marking a new record for the festival.
You can share this story on social media: