Stoner secretly grows cannabis in Glastonbury council's hanging baskets... for 18 years
Published time: 25 Aug, 2016 15:52
Edited time: 27 Aug, 2016 21:25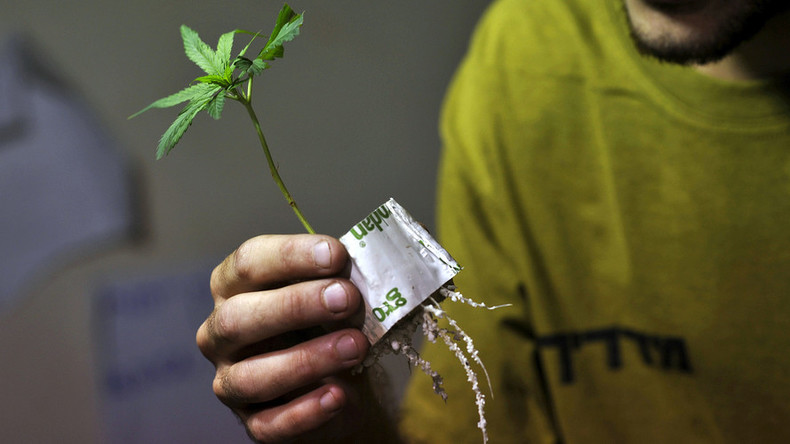 A Glastonbury man says has been secretly growing cannabis in the town's prize-winning public flower displays, which are watered by the local council, for the last 18 years.
Business owner and campaigner Free Cannabis, who changed his name by deed poll in 1997, revealed he and others were planting the cannabis seeds outside his shop, 'Hemp in Avalon'.
"I and others come along and drop the seeds into the tubs, they get watered by nature - and the council.
"I am amazed that people get so excited about this, it's a sad reflection of society's hemp-phobia," he told Somerset Live.
"This is a plant that has so many medicinal qualities - it's a food, it's used for fibre and fuel, it basically gives you everything you need."
His activities were discovered after police received a complaint, and the plant was then ripped up.
He says the removal of the plant was "sad and shocking," as it had become an unofficial part of the display outside the shop for almost two decades.
Cannabis won the 1998 Glastonbury in Bloom award for a display featuring the plant.
On that occasion, the authorities also stepped in and Cannabis received a 12-month conditional discharge.
The greenery lived on until this week, when the council removed it.
"A lack of hempathy leads to a lack of empathy. It's insane that a plant that is so beneficial - it's used for the treatment of cancer, MS, arthritis, and pain management - is illegal.
"This is why people end up dealing it illegally and end up becoming criminalized. It's insane when there are no recorded fatalities [from cannabis use].
"My dream is to be out of business - I just want to live in a world in which the plant is honored and respected and grown freely."
PC Stuart Ball told the Independent: "The small, single plant was removed by the council on Tuesday, having been found in a council-owned basket.
"Cannabis is a controlled substance and we would take a vigorous approach to anyone found growing it for supply purposes."
The campaigner also got in trouble in 1998 after trying to hand a cannabis plant to former Labour MP Jack Straw.