Embattled Labour leader Corbyn sits on floor with commuters for 3-hour train ride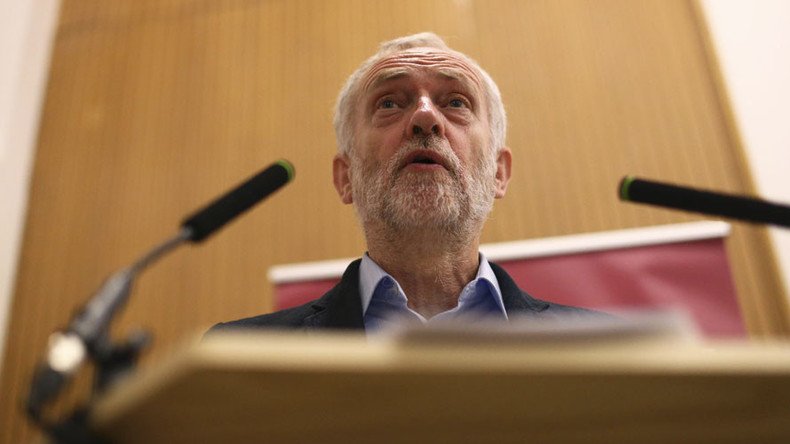 Labour leader Jeremy Corbyn has been filmed joining seatless commuters on the floor during a three-hour train ride to debate leadership challenger Owen Smith. By contrast, Corbyn's rival was previously exposed enjoying first class travel at taxpayer expense.
Freelance filmmaker Yannis Mendez, who is working for the Guardian to follow Corbyn and volunteers for his campaign, made the footage while they were on their way from London to Newcastle.
From his spot on the floor, where he chose to sit instead of upgrading to first class, Corbyn says: "This is a problem that many passengers face every day, commuters and long distance travelers. Today this train is completely ram-packed. The staff are absolutely brilliant, working really hard to help everybody.
"The reality is there are not enough trains, we need more of them - and they're also incredibly expensive."
According to the Guardian, he later said: "Is it fair that I should upgrade my ticket whilst others who might not be able to afford such a luxury should have to sit on the floor? It's their money I would be spending after all."
This isn't the first time Corbyn has won public attention while enduring the reality of Britain's transport network.
During the 2015 leadership campaign he was spotted looking tired on a London night bus after a day of campaigning, proving his 'man of the people' credentials.
Labour leadership challenger Smith has also been in the public eye for his public transport use, but not in a positive light.
In 2012, an investigation revealed 185 MPs – including Smith and a third of shadow cabinet ministers – were enjoying first class train travel at the taxpayer expense.
The Telegraph investigation showed MPs, who are normally required to travel by standard class, were exploiting a loophole which allowed them to buy first class tickets in some circumstances.
Some cost up to £300 (US$390) – five times more than the cheapest standard fare on the same route.
The investigation revealed 10 of the opposition's then-front benchers claimed for first class rail travel. Many of those same Labour MPs played a leading role in the coup against Corbyn this year.
You can share this story on social media: