May urges Argentina to allow more flights & oil exploration around disputed Falklands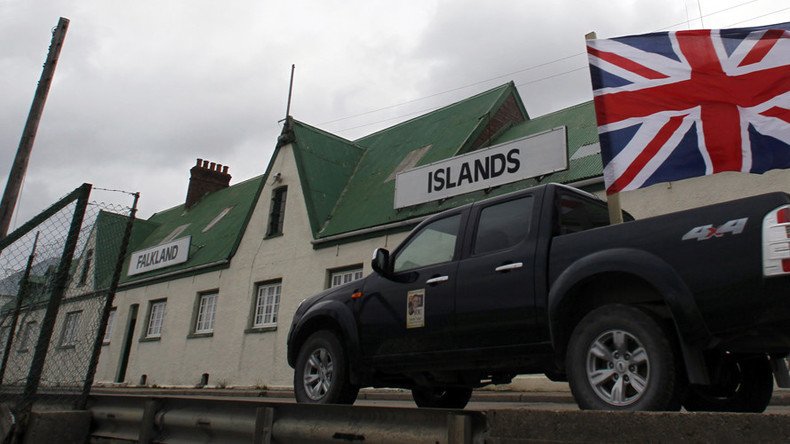 British Prime Minister Theresa May has called on Argentina to run more flights to the Falkland Islands and lift restrictions imposed by Buenos Aires on oil exploration in the region.
It is May's first public exchange with Argentina over the fiercely contested South Atlantic islands which are governed by Britain, since she took office last month.
In a letter to Argentine president Mauricio Macri, published by local media but not reported by Downing Street, May said: "It is my sincere hope that, where we have differences, these can be acknowledged in an atmosphere of mutual respect and with the intention to act in a way that benefits all those concerned.
"This includes making progress towards new air links between the Falkland Islands and third countries in the region, and the removal of restrictive hydrocarbon measures."
A Chilean company currently operates a flight from Santiago to the Falklands – known in Argentina as Las Malvinas – every Saturday via Punta Arenas in southern Chile. Once a month, the same flight also stops in Rio Gallegos in Argentina.
Under the last 12 years of left wing government, Argentina has restricted hydrocarbon exploration in the area. The UK has continually asked for the restrictions to be lifted.
Macri has sought to strengthen his country's ties with Britain and other foreign powers since he took office in December. However, lifting some of the restrictions may be difficult because Macri is in a coalition and may not get the support of parliament.
Argentina's foreign minister, Susana Malcorra, said London and Buenos Aires had been discussing the issue of flights for three months.
"We've begun discussing the possibility of establishing new flights. We've been exploring ways to do it. It is still not settled," she told the Times.
"The United Kingdom has expressed interest in looking at the issue of the hydrocarbon law. Our legal departments are studying the matter."
Malcorra said the possibility of a meeting between May and Macri at the G20 summit in China next month is under discussion.
During a visit to Brussels in July, Macri said "our claim [to the islands] will never change," but hoped for dialogue with Britain.
Argentina claims it inherited the Falkland Islands, located around 300 miles (483km) off its east coast, after the former colony won independence from Spain.
The territorial dispute with the UK saw the 74-day Falklands War in 1982, when Argentina invaded and briefly occupied the islands.
You can share this story on social media: