'Fat & ugly' gym poster promotes bullying, say critics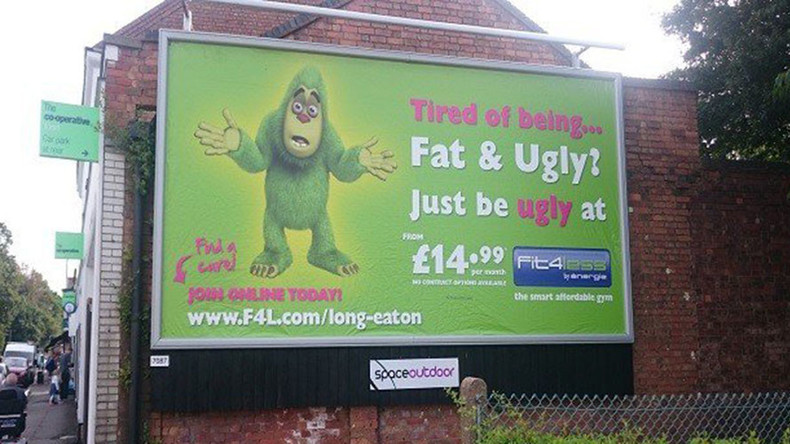 A chain of fitness centers has come under fire after launching a controversial advertising campaign which asks prospective customers if they are "fat and ugly."
Fit4Less has been criticized by the charity Combat Bullying for suggesting that being ugly requires a "cure."
A spokesperson for the gym denied the posters are offensive, insisting they are a bit of "lighthearted fun."
The contentious billboard, in Sawley, Derbyshire, states bluntly: "Tired of being… Fat & Ugly? Just be ugly at Fit4Less."
Combat Bullying founder Natalie Harvey condemned the billboard, saying it "absolutely disgusts."
"I was terribly bullied as a child to the point I was beaten up and had a broken arm, just because my hair was different," she told the BBC.
"I don't understand why we are using these kinds of advertising. It's almost like shaming people."
Harvey has launched her own campaign against the advertisements on Twitter.
"I suppose ASA [Advertising Standards Agency] think this is an ok form of advertising too? I tell my kids the words FAT and UGLY are cruel!" she tweeted.
The location of the billboard is also a source of contention for Harvey, who worries about its impact on children's self-image.
"If it's near a pub or where adults frequent I'm not bothered, but it's a big poster outside a family supermarket," she told the BBC.
The gym said in a statement: "Fit4less is a brand that doesn't take itself too seriously, the campaign is intended to be seen as lighthearted fun and we certainly don't mean to cause offense.
"By adopting a lighthearted approach we can reach a wider audience and gain the attention of people who wouldn't usually respond to traditional gym advertising."
Earlier this year Fit4Less courted controversy when it printed an advert featuring a UFO beaming up a person to the spaceship with the message: "They're coming… And when they arrive they'll take the FAT ones first!"