Refugee deal with Libya 'dangerous' as there's no effective government in Tripoli - Amnesty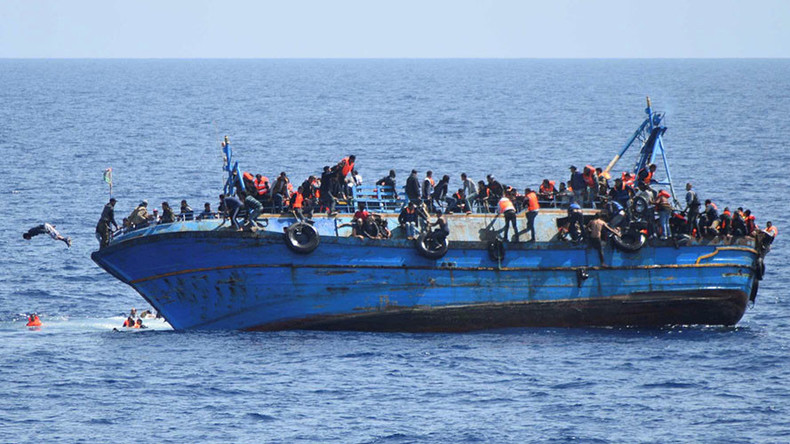 Europe cannot strike a refugee deal with Libya, as recommended by Britain's Home Affairs Committee, because authorities in Tripoli do not have coherent control over the country, Amnesty International says.
The Home Affairs Committee report published on Wednesday calls for an EU deal to be struck with Libya to clamp down on people-smuggling across the Mediterranean Sea.
"An EU deal with Libya to tackle people smuggling is very dangerous and fails to address the absence of any effective government with which to deal," Amnesty warned, however.
Steve Symonds, Amnesty International UK's Programme Director for Refugees, said it vital that EU member states "do not perpetuate the horrific human rights abuses from which refugees and migrants in Libya are so desperate to escape, by striking unsafe deals with a country itself plagued by widespread lawlessness."
Amnesty also said weaker European states like Greece should not be expected to shoulder the entire burden.
"We have to see the UK government taking more leadership and responsibility. Despite being one of the richest countries in the world, the UK hosts less than 1 percent of the world's refugees and that is just not good enough."
The human rights charity said September's UN summit on refugees is an "ideal opportunity" for the UK to "rise to its responsibilities."
The Home Affairs Committee Migration Crisis report is also particularly critical of Chancellor Philip Hammond, the former foreign secretary, accusing him of being "complacent" about the plight of Libyan refugees.
Additionally, the committee of MPs headed by Labour's Keith Vaz presented a withering critique of the uneven response by local councils on the issue of settling apportioned quotas of Syrian refugees.
"These figures show many local authorities are not pulling their weight in resettling Syrian refugees, and there is scant evidence that the government is on track to meet its commitment to resettle 20,000 Syrians by 2020," the report warned.
Libya has been in a continual state of violence since the US-led NATO intervention in 2011.
On August 1 the US military began bombing target in the former Gaddafi stronghold of Sirte, which is controlled by militias associated with Islamic State (IS, formerly ISIS/ISIL).
The Pentagon said this was the first strike of a new campaign that currently has "no endpoint."
In a televised statement broadcast on Monday afternoon, Libyan presidency council head Fayez Serraj said: "The presidency council, as the general army commander, has made a request for direct US support to carry out specific airstrikes."