'Corbyn doesn't get patriotism,' claims Owen Smith … while defending links to tax avoidance firm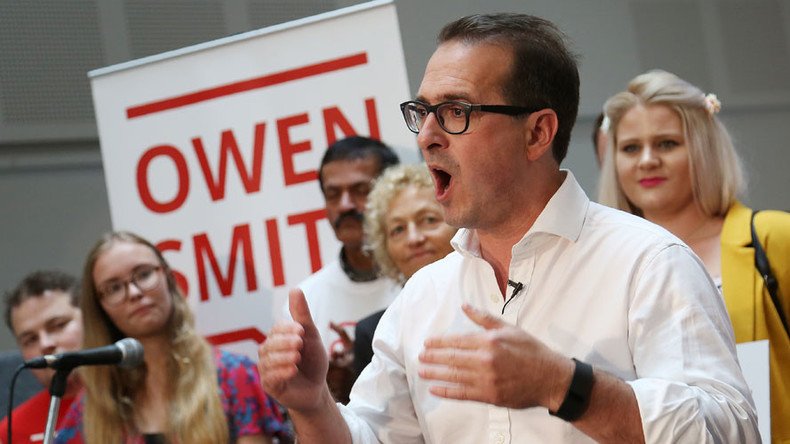 Labour leadership challenger Owen Smith MP claims Jeremy Corbyn does not "understand" patriotism. At the same time, Smith is defending himself against claims he took free advice from a firm linked to  "industrial scale" tax avoidance.
The Rotherham MP told BBC Newsnight that Corbyn holds "liberal" ideas that are at odds with traditional Labour notions of nationhood, nationalism and patriotism.
Smith claimed Labour leader Corbyn's "metropolitan" perspective is not central to the Labour tradition.
The leadership challenger says he will keep NATO's target of spending 2 percent of GDP on defense, will ensure Trident nuclear weapons are renewed and is prepared to launch a nuclear strike if he becomes prime minister.
"One of the weaknesses we have had recently is that people worry that Labour isn't serious about security, that it is a lesser issue for Jeremy," Smith told the BBC.
"I'm not sure that's right, but he has certainly got a different perspective on some of those things - on patriotism if you like; and on security, on defense I think I have got a more traditional Labour perspective on that - an old-fashioned Labour perspective, if you like."
Smith went on to say he thinks Corbyn "doesn't really understand" people's sense of where they are from.
"I am not sure I've heard him talking much about Scotland and identity or about Wales and identity or indeed about England and identity.
"I suspect that Jeremy has got a rather more metropolitan sense of that and that's not one I think is central to the Labour tradition."
Smith's comments come days after he was accused of accepting £60,000 worth of free advice from accountancy firm PricewaterhouseCoopers (PwC) while serving as shadow Treasury minister in 2011.
Smith received the gift, worth a total £58,530, in November 2011. He claims it was a "donation in kind" of "ad hoc" advice provided to Labour during the passage of the Finance (No. 4) Bill.
The MP received this guidance over a six month period, until May 2012.
Former Chair of the Public Accounts Committee Margaret Hodge described PwC's relationship with MPs as "inappropriate."
In a February 2015 report, she accused PwC of "the promotion of tax avoidance on an industrial scale."
A spokesman for Smith said: "When working on complex legislation, MPs routinely take advice from relevant experts. In 2011 Owen was one of several shadow ministers who received some advice from PriceWaterhouseCoopers (PwC) and this was registered as a donation in kind for the work he performed."
You can share this story on social media: