'Passer of buck': Plaques posted outside Boris Johnson's house mock him as 'destroyer' of London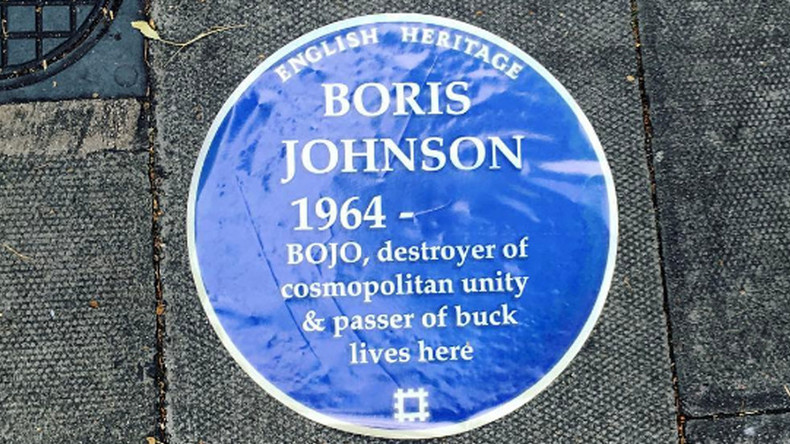 A protester has come up with a creative way to mock the new British foreign minister, Boris Johnson, by placing two blue plaques in the signature style of English Heritage commemorative signs outside his house in London.
The plaques featured a hint of dark British humor, reading: "Boris Johnson, 1964 -, BOJO, destroyer of cosmopolitan unity & passer of buck lives here," in reference to his role in the Brexit referendum.
But, one Twitter user has previously made a more realistic suggestion for a Boris plaque.
Johnson, the key backer of the 'Leave' campaign, was widely criticized for pulling out of the Conservative leadership race after David Cameron resigned in wake of the referendum outcome.
In his first appearance with US Secretary of State John Kerry in London last week, Johnson was embarrassingly grilled for his past "outright lies" by an American journalist for previously describing "part-Kenyan" Barack Obama as having an "ancestral dislike" of the UK.
READ MORE: Boris Johnson & the strange case of the British foreign secretaries
The anonymous plaque protester told Metro he thought "BOJO" had "destroyed" the city of London and said "people will have to move" as a result of Brexit.
"Boris has destroyed my city as an act of callous arrogance," the unnamed protester reportedly said. "He gets away with it. He's unpeggable in every way you'd care to mention.
"People's lives are going to be seriously messed up because he thought it was the best way to become prime minister. If that's not callous, I don't know what is."