Brighton schoolboys protest shorts uniform ban by showing up in skirts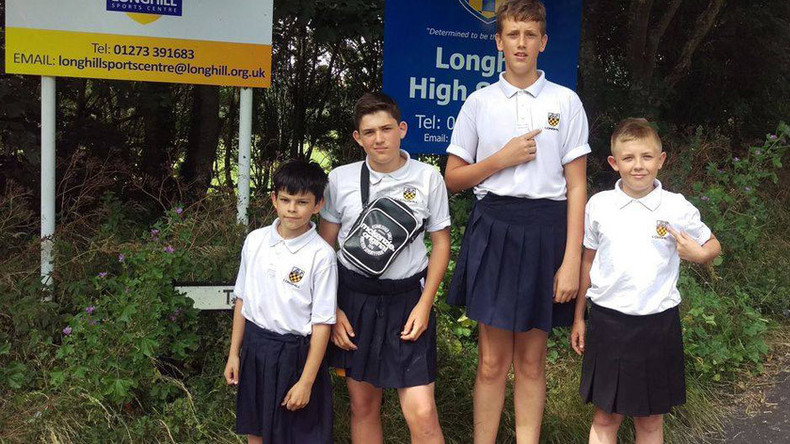 As the recent sweltering temperatures became unbearable for Brits, a group of schoolboys decided to take matters into their own hands after being banned from showing up to class in shorts.
To get around the strict uniform policy at Longhill High School in Rottingdean, near Brighton, a number of boys wore skirts to class after previously being sent home for not wearing trousers.
Head teacher Kate Williams said the school has "high standards regarding uniform."
"Students have access to water in order to keep themselves hydrated," Williams told The Argus. "We have made reasonable steps to ensure that classrooms are as comfortable as possible.
"I have high standards regarding uniform and today, in the warm weather conditions, these high standards have been challenged by approximately 2 percent of parents/students."
Last week, temperatures peaked at 35C (95F) in some parts of the UK, making it the hottest day of the year – and prompting the boys to stand up to the ban.
Michael Parker, 14, told the Daily Mail the school's uniform policy is unfair for boys.
"It's not fair for boys to be roasting in black trousers on the hottest day of the year while the girls can wear skirts," the pupil said.
His mother, Angela Parker, said she was "fully in support of the boys."
"I think what the headmistress is doing is discrimination and I'm extremely proud of Michael and his fellow protesters," she added.
The schoolboys initially attempted to wear shorts with the school logo on them and even tried to roll up their trousers but were either sent home or kept in isolation and excluded from class the following day.
READ MORE: 'Lift the skirt' campaign urges French schoolboys to skip trousers for a day
Williams confirmed in a statement that four boys attending the school were allowed to wear a skirt because it fell under the school uniform policy.
It's not the first time skirts have been used in a school protest. In 2014, a group of Brazilian boys swapped their trousers for skirts in support of a transgender girl who was ostracized by teachers for wearing the "incorrect" uniform.
Similarly, in France, boys were encouraged to wear skirts to school in the same year to support a campaign against sexism.
Schools across the UK recently introduced "gender neutral" uniform policies in an attempt to be more open for children and young people questioning their gender identity.