Union boss claims state undercover agents sabotaging Corbyn's Labour leadership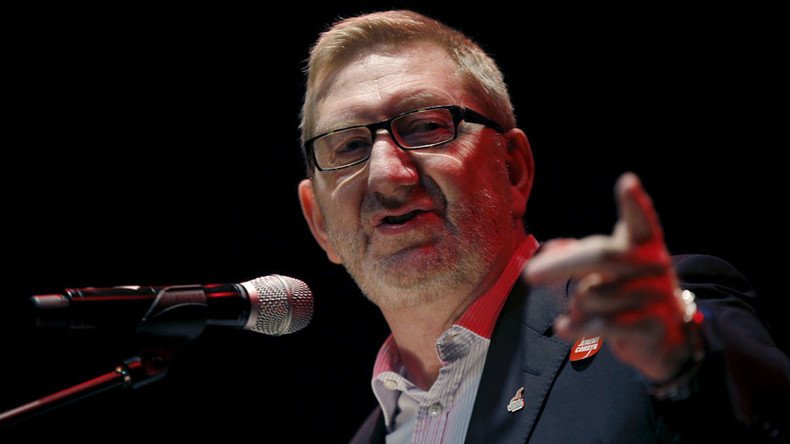 Union boss Len McCluskey has accused British intelligence agencies of using agents provocateurs to undermine Labour leader Jeremy Corbyn.
The Unite general secretary said he believed spies were using "dark practices" in an attempt to "stir up trouble" and suggested they could be behind the abuse of MPs on social media.
McCluskey told the Guardian he thought the truth would come out in 30 years, when classified government documents are released into the public domain.
Asked if he believed online abuse of Corbyn's critics was posted by people trying to discredit his supporters, he said: "Of course, of course. Do people believe for one second that the security forces are not involved in dark practices?
"We found out just a couple of years ago that the chair of my union then, the Transport and General Workers Union, was an MI5 informant at the time that there was a strike taking place that I personally as a worker was involved in. [In] 1972, I was on strike for six weeks. And 30 years later it comes out that the chair of my union at that time was an MI5 informant."
When asked again if he believed classified documents would reveal the involvement of British intelligence agents in Corbyn's leadership strife, McCluskey said: "Well I tell you what, anybody who thinks that that isn't happening doesn't live in the same world that I live in.
"Do you think that there's not all kinds of rightwingers who are not secretly able to disguise themselves and stir up trouble? I find it amazing if people think that isn't happening."
Labour MP Angela Eagle, who dropped out of the leadership race to back 'unity candidate' Owen Smith, dismissed McCluskey's comments as "over the top."
"These are serious issues. Rape threats, death threats and organized bullying are not something to be ignored or minimised. We have a democracy and we need Labour politics of solidarity to avoid the kind of anger and hostility that the politics of division inspires," she said.
There is a historical precedent to provocateurs both in the UK and the US.
In 2009, Liberal Democrat MP Tom Brake accused the police of using undercover agents to incite the crowds at the G20 protests in London.
In the US, the FBI ran a secret program called COINTELPRO from 1956 to 1971 which infiltrated groups such as the Black Panther Party and peace activists such as Martin Luther King Jr.
The FBI conducted systematic plots and surveillance to discredit and harass King, including false allegations he was influenced by communists and a threatening letter sent by agents in 1964 calling him "an evil, abnormal beast," just one year after he delivered his famous "I Have A Dream" speech.
You can share this story on social media: