The British govt's 'take out the trash day': A brief history of burying bad news
Published time: 22 Jul, 2016 14:12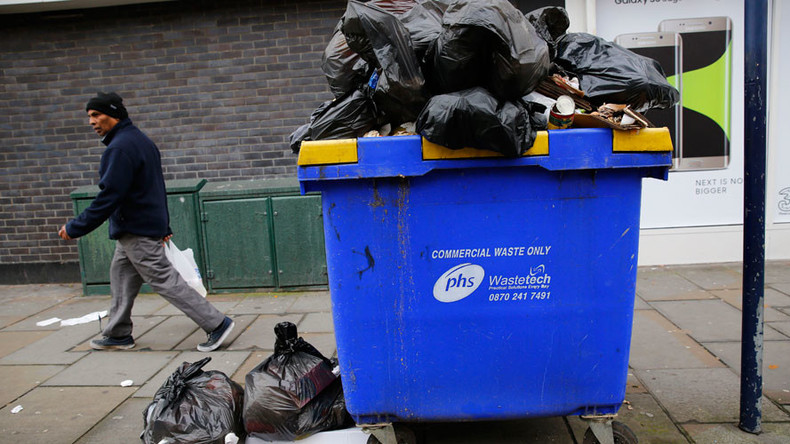 The government of Prime Minister Theresa May has dumped more than 300 documents containing some potentially embarrassing revelations just hours before MPs begin their summer recess. RT looks at the longstanding and dishonorable British tradition of burying bad news.
UK governments are savvy when it comes to informing the public about their unsavory antics, incompetence and general shameful behavior.
If ministers can't keep their dirty laundry secret for 20 years under the Constitutional Reform and Governance Act, they often just dump it on a day when the news will either be overshadowed or forgotten about.
In the American political drama 'The West Wing' it's referred to as "Take out the trash day." In Britain, it's called burying bad news.
Recess rubbish day
This year the government attempted to deflect attention away from several stonkers, including a statement on a Saudi diplomat who was accused of bringing his personal slave into Britain.
He or she is likely to have escaped prosecution because of diplomatic immunity.
Foreign Secretary Boris Johnson also disclosed that his predecessor, Philip Hammond, misled Parliament over an assessment he claimed had been carried out into alleged Saudi Arabian war crimes in Yemen.
The Foreign and Commonwealth Office (FCO) conceded on Thursday that no such assessment had ever been carried out.
'A very good day to bury bad news'
Arguably the most notorious example of spin doctors trying to throw rubbish out the backdoor was immediately after 9/11, when a press officer told her team: "It's now a very good day to get out anything we want to bury. Councillors' expenses?"
Jo Moore, who worked in the Department for Transport, later apologized and resigned after the email was leaked to the press.
The department appeared to take her advice, offloading several announcements, none of which are remembered as well as Moore's cynical advice.
Thatcher and the 'double dose'
Margaret Thatcher's press secretary came up with an idea on how to bury bad news back in 1985.
Bernard Ingham advised the late former PM to announce bad news stories on successive days, so the media is distracted by the first announcement.
He thought up the theory when he saw that then Chancellor Nigel Lawson's Autumn Statement was not savaged nearly as much as he expected.
Ingham speculated the lack of criticism was because the newspapers were more interested in the Anglo-Irish summit.
"This leaves me with the thought: when you have two problems, announce each on successive days."
Bad news has always been buried
Although the term of 'burying bad news' is a modern one, the concept appears to be as old as politics itself.
Historian Trevor Dadson of Queen Mary University, London, wrote in a 2006 essay that 17th century Spanish rulers performed a trick very similar to Thatcher's "double dose."
He cites an example from 1609, when the Spanish government announced a controversial policy to expel the North African Moors from Spain on the same day King Philip III signed a humiliating peace treaty with the Dutch.
"The very modern concept of 'burying bad news' is not so modern as we might like to think, and even spin doctors spinning the news in artfully favourable ways have their counterparts in early modern Europe," Dadson wrote.