Knife incident at UK military base treated as attempted abduction, terrorism not ruled out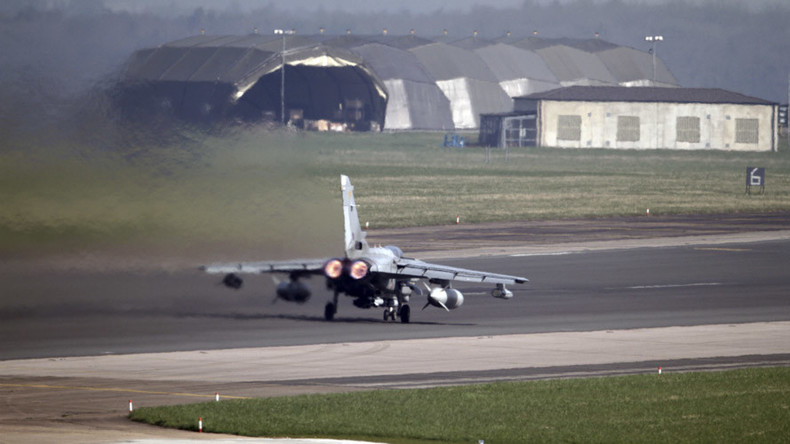 Norfolk police are investigating the attempted abduction of a military serviceman at RAF Marham on Wednesday. They have not ruled out terrorism as a motive.
Local authorities are carrying out house-to-house enquiries and detailed searches of the area, in Squires Hill, which is now closed off to the public.
Detective Superintendent Paul Durham, from the Norfolk and Suffolk Major Investigation Team, said police are exploring several hypotheses and that terrorism is one of them.
According to a police statement, the victim, in his late 20s, was approached by two men while out for a run.
The first suspect, described as 6ft tall and between 20 and 30 years of age, shouted at the serviceman and attempted to grab him.
The victim successfully fought him off, causing the first suspect to fall on the ground.
The second suspect then approached the victim armed with a knife, before going to the aid of his accomplice on the ground. At this point the victim ran off.
The two suspects, both described as Middle Eastern in appearance, fled the scene in a dark-colored people carrier and have not been located.
The first suspect is described as being of athletic but stocky build, with dark hair and a well-groomed beard.
The second suspect is also described as between 20 and 30 years of age, about 5ft 10in tall and of a slimmer build, with a clean-shaven face and short dark hair.
"I can confirm we are treating this as an attempted abduction and detailed enquiries are being carried out at the scene to establish the full circumstances," Det Supt Durham said in a statement.
"The motivation for the attack remains unclear at this time, and whilst we are currently unable to discount terrorism, there are a number of other possible hypotheses. We are therefore carrying out a thorough investigation to understand what has happened, why and who is responsible.
"Visible patrols continue in the area and officers will be carrying out house-to-house enquiries and detailed searches of the scene in Squires Hill, which remains closed for the time being."
In response to Wednesday's attempted abduction, the London Metropolitan Police Service said its counter-terrorism command is aware of the incident and is leaving the investigation to Norfolk police.
RAF Marham is home to four squadrons of Tornado bombers, which have taken part in strikes against Islamic State (IS, formerly ISIS/ISIL) in Syria and Iraq. Last month, Tornado jets flew missions to bomb IS targets in Fallujah, Iraq.
The station is home to almost 10,000 people, including members of the RAF, Navy and Army.
In 2013, soldier Lee Rigby was attacked and killed outside the Royal Artillery Barracks in Woolwich by two men who claimed to be seeking retribution for Britain's military involvement in the Islamic world.
Michael Adebolajo and Michael Adebowale were later jailed for life.