Whitehall at war: Brexit minister accused of poaching Foreign Office talent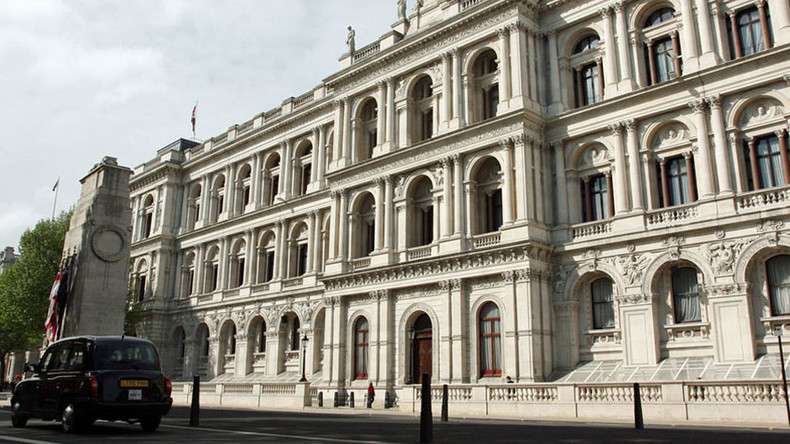 Britain's Foreign and Commonwealth Office (FCO) has rebuffed attempts by newly appointed Cabinet member David Davis to poach some of its experts, after the Brexit minister suggested he would be ransacking Whitehall for its "most brilliant people."
An unnamed source told the Times: "The idea that Davis has complete freedom to hire whoever he wants is nonsense as anyone who knows anything about the civil service knows."

"These things take months and nothing has been decided. It is just an opening gambit in a negotiation and other government departments are not going to roll over and automatically let their best staff go."
The FCO's biggest fear is having its Europe Directorate fully relocated into the Department for Exiting the European Union. A Times source went as far as accusing Davis of "empire building."
Davis had intimated during the weekend that his new department would hire close to 200 members of staff.
"We've got 10 people for every job so clearly fast-track civil servants see this as the place to be."
Davis and his soon-to-be staff will be housed next door to Theresa May, at 9 Downing Street.
But reports of the department's responsibilities have been contradictory. While Davis himself suggested he would be bossing fellow Cabinet member and Secretary of State for International Trade Liam Fox, an official list ranked Davis' department below the Foreign Office, the Ministry of Defence and the Ministry of Justice. Similarly, while Davis could attend some Brexit negotiations, Foreign Secretary Boris Johnson will be the one heading to the vital European Foreign Affairs Council.
Britain currently suffers from a dearth of trade negotiators, as all of its dealings with foreign capital have been done via Brussels for the last four decades. In comparison, Canada has employed 800 negotiators to manage its new EU trade agreements, named CETA. Britain's staff force of 200 would look pale in comparison.
The UK has a severe shortage of skilled trade negotiators. In Lebanon we have about a million. We call them 'mom'.

— Karl Sharro (@KarlreMarks) July 18, 2016
Oliver Letwin MP told the BBC Radio 4 Today program the British trade negotiators at the moment are basically working for the EU.
"[There are] quite a number but they're employed there and it's up to them whether they're recruited in Whitehall. There are obviously very experienced trade negotiators elsewhere in the world as well," he said.