Black man killed in UK police custody echoes racial tensions sweeping US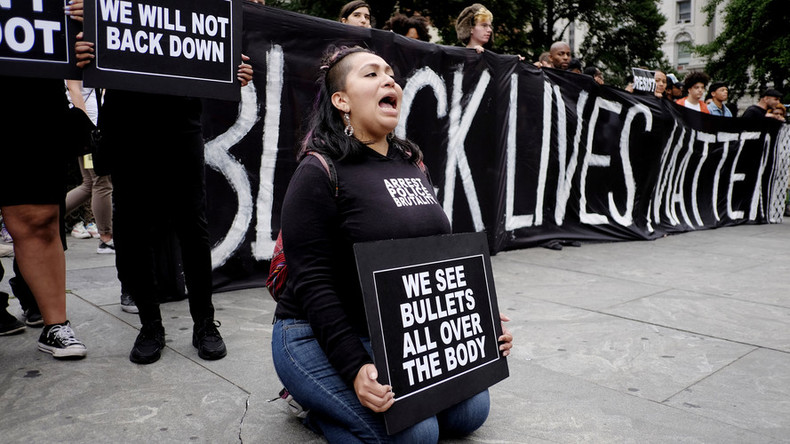 #BlackLivesMatter protests, which have reared up again following the recent high profile deaths of black men at the hands of US police, have found an echo in the UK following the death of Mzee Mohammed in Liverpool.
Mohammed died earlier this month following his arrest by Merseyside Police, who booked him for "aggressive and erratic" behavior. Video footage released after his death revealed how Mohammed was held face down by several police officers while paramedics attended to the 18-year-old.
Mohammed's mother, Karla, said at a Liverpool protest in his honor: "I will not rest; I will walk in my son's shoes until I get answers, and anyone who had a hand in my boy's death will be brought to justice.
"My son will not be a number or a statistic. His death will not be in vain."
Demonstrations have also taken place in London, where Black Lives Matter campaigners called for "Justice for Mzee" as they staged sit-ins, roadblocks and confrontations with police.
In his memory, the new national executive council of the National Union of Students started its very first meeting with a minute of silence.
According to the charity Inquest, Mzee Mohammed is the twenty-first black person to die in UK custody in the last six years. More than 140 black and other minority ethnic (BAME) people have died under police protection since 1990.
In a similar case, three Metropolitan Police officers are finally facing disciplinary proceedings after allegedly abusing and tasering a black firefighter. They could all be fired depending on the results of the inquiry.
Mark Gatland, Daniel Roberts, and Insp Sutinderjit Mahil PCs were approached by Edric Kennedy-Mcfoy, an off-duty firefighter, in north London in September 2011.
Attempting to help the PCs identify a young man who had thrown a stone at a police van, Kennedy-Mcfoy was reportedly dragged out of a white Audi he had been driving by the officers, while they shouted abuse.
In his report of the incident, Kennedy-Mcfoy told Gatland, Roberts and Mahil: "Listen guys, I haven't done anything wrong. I'm a firefighter – I work with you lot and I just want to explain something. I've showed no aggression towards any of you."
On the inquiry, Kennedy-Mcfoy added: "I can only hope and pray that the truth finally prevails and that justice is now done. After everything I've been through I find it very difficult to call on the police for assistance at a time of need. Racism in the police is something I've seen and suffered throughout my life. It's a disease that can only be cured by police forces rooting it out from within."
The Met told the press Gatland had allegedly "used unreasonable force and discharged a Taser without warning and that on both occasions his actions were motivated by racial discrimination and/or racial stereotyping and so treated the victim less favourably."
The officers deny all charges.
Experts believe the riots that swept England in 2011 are not a thing of the past, as "discontent" with police and racial profiling by police continues to drive a wedge between forces and BAME communities.
Speaking exclusively to RT in 2015, gang mediator and community worker Ken Hinds said that after decades of feeling victimized, the BAME community called the recurrent police probes "stop-and-scarred."
Stop-and-search incidents, he said, "may scar them [youths] for life and deter them from becoming a good role model. We believe black lives matter less than a white life here in Haringey."
There's an "uneasy truce" between the community and the police in Tottenham, Hinds continued, as the relationship "hasn't improved since" the riots and trust levels "hasn't gotten any better."
You can share this story on social media: