Scotland could hold 2nd independence referendum next year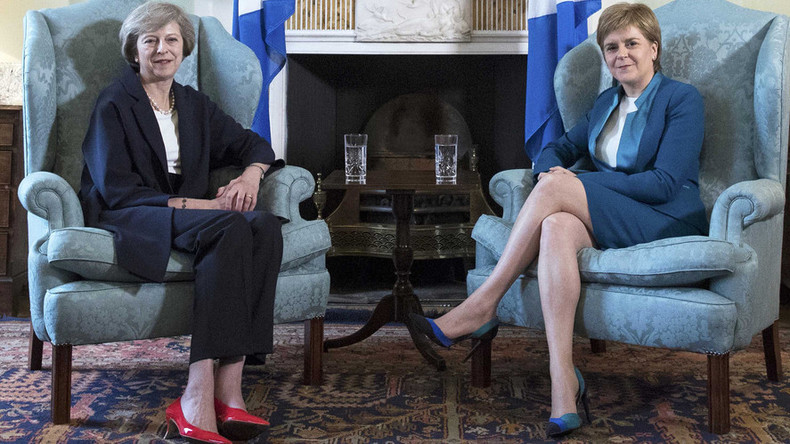 Scottish First Minister Nicola Sturgeon could call for a second independence referendum to be held as early as 2017 if the country is destined to be taken out of the EU along with the rest of the UK.
Sturgeon said she would consider a second vote on Scottish independence if the Holyrood parliament is "not on board" with Westminster's Brexit objectives when Article 50 of the Lisbon Treaty is triggered, formalising the UK's exit from the EU.
The FM met with Prime Minister Theresa May in Edinburgh last week, where the new Tory PM reassured Scotland that Article 50 will not be triggered until a "UK approach" had been agreed for Brexit negotiations.
Speaking in a series of TV interviews, the First Minister said May's stance on Brexit negotiations meant Scotland was in a "very, very strong position."
Sturgeon denied saying Scotland would hold a veto over Britain's negotiation objectives and corrected the BBC's Andrew Marr Show for implying that was the case.
Speaking on the BBC's Sunday Politics program, Sturgeon said she would be happy to hold an independence referendum in the first half of 2017.
"I will have an indyref if I come to the conclusion that it is in the best interests of Scotland. I've always said that. It would be up to Scottish people ultimately to decide if that is right way to go."
Sturgeon added that if a second independence referendum were to be held, it would make sense for it to take place before the UK left the EU.
The First Minister also reiterated her belief that Scotland could be allowed to retain its membership of the EU without needing to leave the UK.
"We're in uncharted territory and when you're in uncharted territory with effectively a blank sheet of paper in front of you then you have an opportunity to try to think things that might have previously been unthinkable and shape the future," she said.
Sturgeon said she experienced warmth and support for Scotland's intent to remain within the EU during a recent trip to Brussels.
Any bid for a second independence referendum is likely to face huge opposite in Westminster. The PM was quick to rule out the possibility of a second vote after meeting with Sturgeon.
"As far as I'm concerned, the Scottish people have had their vote, they voted in 2014 and a very clear message came through. Both the United Kingdom and the Scottish government said they would abide by that."