Elves, cannibals & piccaninnies: The Boris Johnson GIFs that keep on giving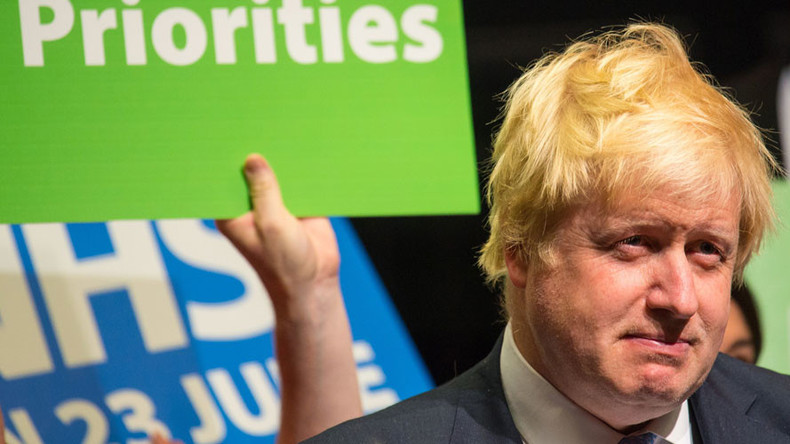 Having previously likened Vladimir Putin to a Harry Potter elf and penned a poem about the Turkish president having sex with a goat, new British Foreign Secretary Boris Johnson has his work cut out for him.
Johnson will likely encounter the next president of the United States as part of his new role. That could well be Hillary Clinton, about whom he had some not-so-kind words during her 2008 campaign for the White House.
Barack Obama didn't fare much better from Johnson who suggested that the president's alleged dislike of Britain could stem from his "part-Kenyan" heritage rebelling against British colonialism.
Johnson has struggled to speak diplomatically about Africa on a number of occasions. He once said Britain's Queen Elizabeth loved the Commonwealth as it supplied her with "cheering crowds of flag-waving piccaninnies" who had "watermelon smiles".
Johnson later apologized for the comments, claiming they had been taken out of context.
Papua New Guinea was also added to his "global itinerary of apology" after he referenced the Pacific nation in a rather extreme manner while criticizing Tony Blair's leadership.
Johnson's subsequent apology was somewhat undermined when he added that he was "fairly certain" that cannibalism was still an issue in the country.
The former London mayor has been progressive in speaking about the West's relations with Russia, pleading with the world to work together in defeating Islamic State (IS, formerly ISIS/ISIL).
Unfortunately this positive approach to international relations was dampened when he compared Russian President Vladimir Putin to a Harry Potter character.
In May, Johnson won a £1,000 prize for a poem in which he accused Turkish President Recep Tayyip Erdoğan of having sex with a goat.
He's not a fan of the Chinese either, saying their global power is overrated and that there was no need to get "our knickers in a twist over China" and not to "teach babies Mandarin."
Even without speaking, Johnson has managed to stun the world for the wrong reasons including that famous time he brutally tackled a young Japanese boy to the ground in full view of the world's media.
Or when he got stuck on a zip wire while at an event celebrating the London 2012 Olympics.