Owen who? 2nd Labour leadership challenger to Corbyn is relative unknown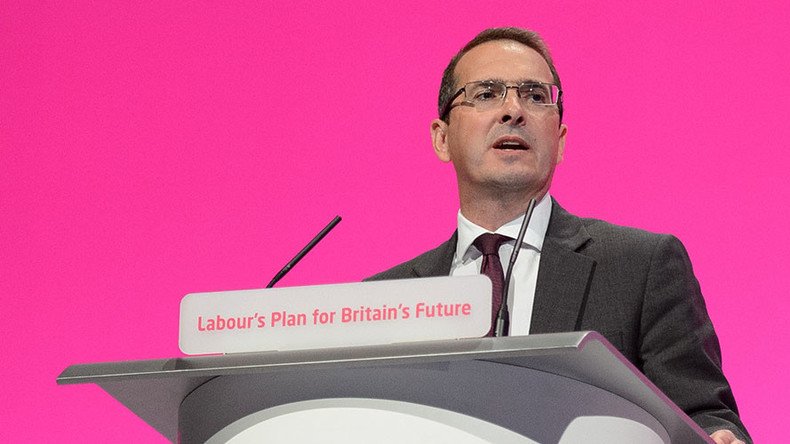 While he may have been in politics for almost 15 years, Owen Smith MP is still little known to British voters, and even party members. Google searches for the former shadow work and pensions secretary spiked after he announced his bid for Jeremy Corbyn's job.
The MP for Pontypridd has been roaming the corridors of Westminster since 2002, starting out as special adviser to Paul Murphy and then becoming secretary of state for Wales. Smith only won his own parliamentary seat in 2010.
His attempt to become the Labour Party's leader is about the only big political act anyone has noticed up to now.
So who is Owen Smith, and where does he stand on the political spectrum as opposed to challenger Angela Eagle and incumbent Jeremy Corbyn?
Iraq War
Smith was not in Parliament when the vote to go to war in Iraq took place, but, when asked by the BBC Today program's Nick Robinson on Wednesday, he insisted he'd have been against it.
However, his record is not that straightforward. In a 2006 interview with the South Wales Echo, Smith said, "I thought at the time the tradition of the Labour Party and the tradition of left-wing engagement to remove dictators was a noble, valuable tradition, and one that in South Wales, from the Spanish Civil War onwards, we have recognized and played a part in."
As for the contempt of parliament motion against Tony Blair that is expected to be put forward on Thursday, Smith told the BBC he would not support punishing the ex-Labour chief.
"I think it was the wrong decision, to go to war, but I think this is much more complicated than condemning one individual."
Smith did, however, vote against airstrikes in Syria, but backed the 2011 no-fly zone in Libya.
NHS privatization
Like Blair, Smith does not think private involvement in the state owned National Health Service (NHS) is such a bad idea.
He was quoted by the South Wales Echo as saying: "Where [private investors] can bring good ideas, where they can bring valuable services that the NHS is not able to deliver, and where they can work alongside but remain subservient to the NHS and without diminishing in any respect the public service ethos of the NHS, then I think that's fine. I think if their involvement means in any way, shape or form the breakup of the NHS, then I'm not a fan of it, but I don't think it does."
His most striking health service credential, however, is his past career with pharmaceutical giant Pfizer, which donated more than £40,500 to Labour's right-wing pressure group Progress between 2003 and 2005.
Trident
The vote on whether to renew Britain's aging Trident nuclear weapons systems is near, and, with pro-disarmament Jeremy Corbyn at the helm, but the bulk of his MPs keen on renewal, Labour looks set for yet another rift.
Smith says he was once a member of the Campaign for Nuclear Disarmament (CND). He also claims to be in favor of multilateral disarmament.
However, he told the BBC, "I think the reality is that we presently do need to retain a nuclear capacity in this country. I'd vote to retain nuclear bombs."
Benefit cuts
On the controversial Welfare Reform Bill debate, Smith, unlike fellow leadership contender Angela Eagle, did not abstain and voted with Corbyn against the cuts. The Welsh MP also voted against the hated bedroom tax and cuts to disability benefits.
He is a supporter of a bankers' bonus tax and of the so-called mansion tax – an annual tax on the value of expensive homes.
Egotistical?
As Corbyn's months in charge testify, politics can be a merciless popularity contest. Unfortunately for Smith, he is not thought to be widely liked by his fellow Labour MPs.
ITV reporter Chris Ship tweeted on Wednesday that some Labour legislators think Smith has "zero judgement," an "ego the size of a planet" and that "his massive ego dwarfs everything."
You can share this story on social media: