May vows to stop tax avoidance... while her husband profits from Amazon & Starbucks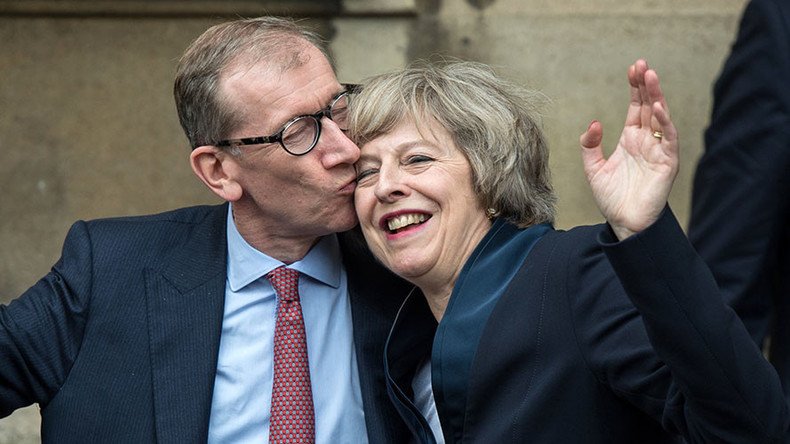 Incoming Tory Prime Minister Theresa May's husband is a senior executive at an investment fund which manages $20 billion of shares in tax avoiding companies such as Amazon and Starbucks.
Philip May's position at the Los Angeles-based Capital Group, which controls $1.4 trillion in assets, has come under scrutiny after his wife was announced as David Cameron's successor in Downing Street.
His role at the firm has garnered even more attention since his wife, the prime minister-designate, vowed to clamp down on tax avoidance earlier this week.
Theresa May cited Amazon and Starbucks – both clients of her husband's firm – as examples of tax avoiding companies the government will crack down in a speech on Monday.
"We also understand that tax is the price we pay for living in a civilized society. No individual or no business, however rich, has succeeded all on their own," she said.
"It doesn't matter to me whether you're Amazon, Google or Starbucks, you have a duty to put something back, you have a debt to fellow citizens and you have a responsibility to pay your taxes."
Filings to US authorities show Capital Group owns significant stakes in several major companies, including arms manufacturer Lockheed Martin, tobacco firm Philip Morris International, investment bank JP Morgan Chase and big pharma Merck & Co.
Capital Group confirmed to the Independent that Philip is a pension fund expert.
"Philip is a client relationship manager who stays in contact with organizations and institutions in the UK to ensure they are happy with the service being delivered by Capital Group and that we understand their goals. Philip is not involved with our investment research or portfolio management activities," a spokeswoman told the newspaper.
According to filings from March 31 this year, Capital Group – through its various divisions and funds – owns at least 32 million shares in Amazon, worth about $20 billion.
With a 6 percent stake in the internet shopping giant, the investment firm is one of Amazon's biggest shareholders.
Capital Group also owns about $9 billion worth of shares in tobacco giant Philip Morris International, which has lobbied against anti-smoking laws in Uruguay and Australia.
The firm also owns £2 billion (US$2.7 billion) worth of Starbucks shares, $7 billion in JP Morgan Chase, $5 billion in McDonald's, $6.6 billion in Lockheed Martin, and $1.5 billion in Ryanair.
"We pay all our taxes in the UK and in 2014 we moved our European Headquarters to London. Last year we paid £18 million in corporation tax," a spokesman for Starbucks said.
You can share this story on social media: