Eagle has landed: Labour coup heats up as Corbyn leadership formally challenged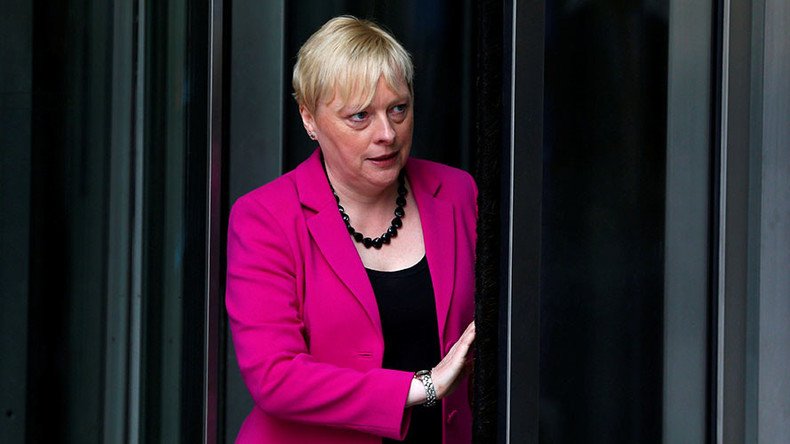 Former Shadow Secretary of State Angela Eagle has launched her official bid for the Labour Party leadership. Coup leaders are fighting to keep Jeremy Corbyn off the ballot paper, as the party's 500,000-strong membership is bound to re-elect him.
The apparent stalemate in the party's ongoing civil war came to an end over the weekend when Eagle announced she would definitely run for leader after several aborted attempts.
Eagle announced on Monday afternoon she would to run for leader because she wants to "save Labour and heal the nation."
In her official announcement speech, Eagle noted: "I am not here for a Labour Party that just takes part. I'm here to win. I will not stand back and allow Britain to become a one-party Tory state. We owe too much to the millions in our country who look to us to help them make a better life."
She said the country does not believe in her party "right now," but would with her as leader. The Wallasey MP then asked the membership to "help" her win the race.
"I am a person who brings people together, I don't drive them apart. I will unite, I will not divide. I can bring our party together again," Eagle continued.
"A kinder politics must be a reality, not just an empty slogan. The Tories may play out their game of thrones. But they have nothing to offer on the questions this country now faces.
"I love my party and I love my country. We are at a crossroads. I am ready to lead."
In response, public sector workers union PCS threw its weight behind Corbyn, but "welcomed the opportunity for democratic debate."
The union's general secretary Mark Serwotka said: "Jeremy Corbyn was elected by a landslide just 10 months ago and the premeditated attempt to unseat him is undemocratic and shameful.
"We have said all along that if MPs want another leader they should stand a candidate, so we welcome this opportunity for a democratic debate and believe Jeremy will win again."
Labour's National Executive Committee (NEC) meets on Tuesday to decide the timetable of the leadership race and whether Corbyn will be automatically listed on the ballot paper, or whether he will need nominations from 51 MPs and MEPs.
2010 rulebook reforms
Corbyn's legal advisers at Doughty Street Chambers ruled that according to the 2010 reforms to the party's rulebook he will as "incumbent [be] automatically on the ballot paper" and that "there is no requirement that the incumbent be nominated."


Told by Labour's General Secretary Iain McNicol that it would not be the case, the leader replied: "I will challenge that if that is the view that [the NEC] take ... I would just say to anyone in the party to think for a moment: is it really right that the members of the party should be denied a choice in this? Half a million people are members of the party because they want the party to succeed."
Members of Labour's NEC include Corbyn supporters Jon Trickett MP and Dennis Skinner MP, but also Margaret Beckett MP, who called herself a "moron" for using her influencing to get Corbyn on the ballot paper in 2015.
Threats and splits
Bickering between Labour's leading figures is also back on the agenda, as the one-time rumored leadership challenger Owen Smith MP accused Shadow Chancellor John McDonnell of wanting to split the party.
In a series of tweets, Smith argued he stood by Labour's real interests by not being "prepared to stand by and see our party split."
He then suggested that in a meeting with fellow MPs, McDonnell might have replied to his fears of an imminent split with "if that's what it takes."
Also via Twitter, McDonnell told Smith the claims were "complete rubbish."
"I don't want our party to split, which is why I want all of us to work together," he added.
Scottish Labour leader Kezia Dougdale also came out against the leader, arguing he would not make a good prime minister because "he's deeply driven by his principles and wanting to do the right thing.
"He won't compromise them in order to be in government and he doesn't think that he needs to," she told the Guardian.
Eagle flying without wings?
Questions were also raised over how Eagle would support her leadership campaign, as she is running against the trade unions' favorite.
Her 2015 deputy leadership campaign received no less than £70,000 from general unions GMB and Unite, communications workers union CWU, and transport union TSSA.
Her expenses claims between 2010 and 2015, in turn, added up to nearly £950,000 - costing over £1,000 to each of her voters.
Eagle is also facing a motion of no confidence by her own constituency Labour branch in Wallasey. The 1,200 local members will be given the chance to debate and vote on the motion at the group's next meeting on July 22.
The branch's vice-chair Paul Davis said the discussion would be "lively," but that he could not "possibly say" what all members thought of the no-confidence motion.
You can share this story on social media: