Cameron to leave Downing Street on Wednesday, Theresa May to become PM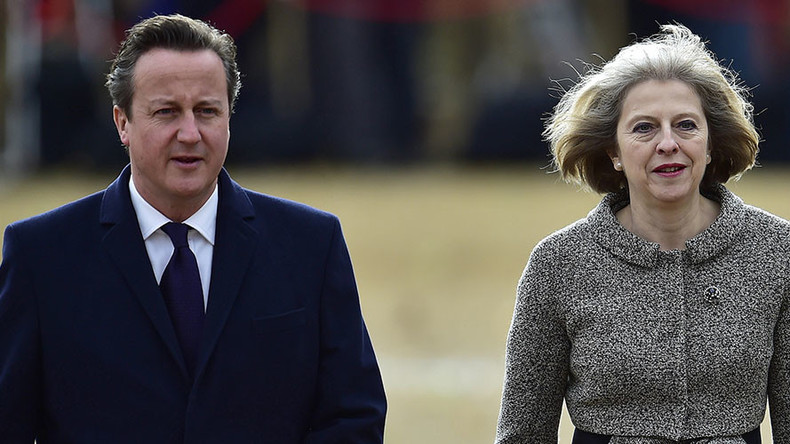 Theresa May will succeed David Cameron as Prime Minister on Wednesday evening after May's challenger in the Conservative leadership race, Andrea Leadson, pulled out of the contest.
Cameron announced he will offer his resignation to the Queen after chairing his final Cabinet meeting and attending his last Prime Minister's Questions on Wednesday.
"We are not going to have a prolonged leadership election campaign. I think Andrea Leadsom made absolutely the right decision to stand aside. It is clear Theresa May has the overwhelming support of the Conservative parliamentary party," he told assembled press outside Downing Street.
"I'm also delighted that Theresa May will be the next prime minister. She is strong, she is competent, she's more than able to provide the leadership the country is going to need in the years ahead and she will have my full support."
May will become the UK's second female PM after Margaret Thatcher, whose tenure spanned three decades, from May 1979 to November 1990.
Andrea Leadsom pulled out of the Conservative leadership race on Monday afternoon.
She conceded defeat in the leadership contest during a hastily arranged press conference outside her house in Cowley Street, Westminster.
She cited the country's best interests as her reason for pulling out of the two-way contest. However, rumors suggest Leadsom found the leadership race "shattering" after comments she made about rival May backfired in the press.
The energy minister told assembled press: "I have been overwhelmed by the incredible messages of support and goodwill from so many people. Thank you so much for your kindness and offers of help. In standing for the leadership, it was always about doing what is in the best interests of our country.
"A nine-week campaign is clearly not in the interests of jobs, growth and certainty at this momentous time for the UK.
"Theresa May has the support of more than 60 percent of our parliamentary colleagues, and will be able to provide the strong unifying government that we urgently need."
What's next for Leadsom?

— Joe Nerssessian (@joenerssessian) July 11, 2016
Leadsom came under fire for telling the Times that being a mother meant she had "a very real stake" in Britain's future.
She added that May must be "really sad" not to have children.
The energy minister subsequently apologized to May, but the gaffe and ensuing spectacle damaged her standing in the media.
May, who is now the uncontested candidate for Tory leadership, will only become the "PM elect" upon the declaration of the 1922 committee.
Committee chair Graham Brady ruled out re-opening the contest on Monday afternoon. He said the board will be consulted and that the committee must confirm whether she can be named party leader - and therefore prime minister.