Tory head-to-head: 1 of these women may be Britain's next prime minister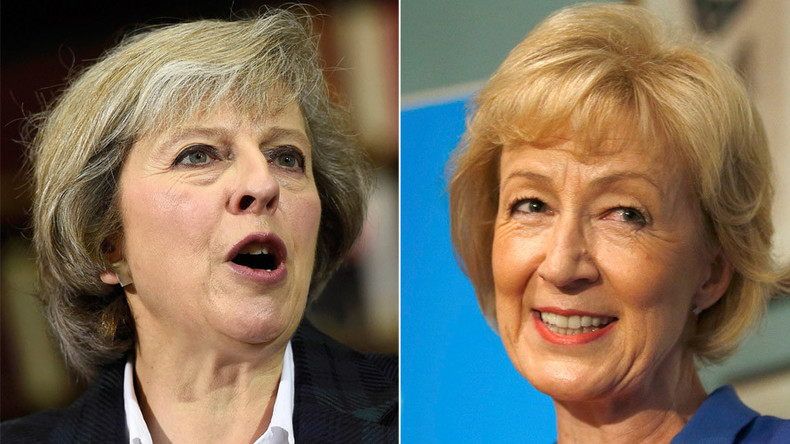 Britain could soon have a woman prime minister for only the second time in history, as the Tory leadership contest comes to a head. Frontrunner Theresa May seems likely to be joined by rookie candidate Andrea Leadsom in the final ballot.
Energy Minister Leadsom still has to win her seat in the final round from leading Brexiteer Justice Secretary Michael Gove, but her supporters came out in force on Thursday as Gove's team struggled to mobilize MPs behind him.
While Gove ally Nick Boles begged fellow MPs and Theresa May backers to vote for the justice secretary to keep Leadsom out, former Tory leader Michael Howard joined the growing number of her high-profile supporters.
Speaking on BBC's Today program, former Tory leader Lord Howard said: "I've come to the conclusion that Andrea Leadsom is best placed to lead our country into this exciting new future that we have in front of us outside the European Union. She has the vision to see the opportunities which are there in front of us."
Asked why he wouldn't support Gove, Lord Howard replied: "I have a high regard for Michael, I think he was an extremely good education secretary but I'm afraid the events of last week made it very difficult to support him and they appear to have been compounded, I'm afraid, by [Nick Boles'] text."
He also referred to Gove's "betrayal" of Boris Johnson, the long-awaited Brexit candidate to the Conservative leadership. Predictably, Johnson is now backing Leadsom for the top job.
Leadsom's supporters marched on Parliament on Thursday morning, demanding she become premier "now."
Leadsom has courted fresh controversy, however. Her CV has been subjected to scrutiny after a series of holes and wrongly attributed job titles were found in her alleged high-flying City career.
The ballot for the final two candidates will take place between 9am and 4pm on Thursday, the results being announced shortly after.
The two final candidates will then be put to the Conservative Party membership as a whole. The next party leader, and therefore British prime minister, will be chosen by September 9.