'Bregret'? Wales changes mind about leaving EU, poll finds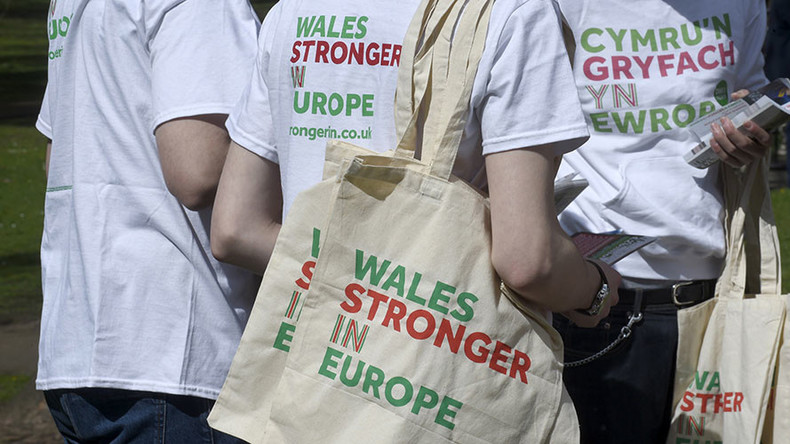 It's too little, too late, but Welsh voters now back remaining in the European Union, according to a poll.
If there was a second referendum, the numbers suggest voters would opt to stay in the EU by a margin of 53 to 47 percent. That's according to a survey was carried out by ITV Wales/Cardiff University and YouGov.
"In short, there is not much overall change," Professor Roger Scully of Cardiff University said. "But that which has occurred is in the direction of growing support for the idea of the UK remaining in the EU - roughly a six percentage-point swing in this direction since the referendum."
READ MORE: Post-Brexit turmoil after vote to leave the EU
Wales voted for Brexit by 52.5 percent to 47.5 percent in the June 23 referendum.
Scully pointed out the focus of the poll was "since the referendum," which indicates the concern felt by some about the Brexit outcome.
"Unless those supporting continued EU membership can find some way of overturning or re-running the vote, their views may now count for very little," he added.
The backtracking of voters who initially opted to leave the EU has been referred to as "Bregret," after the 'Leave' camp was accused of lying about key pledges made during the Brexit campaign. The suggestion that £350 million-worth of funding per week could be made available to the NHS was one such claim.
READ MORE: Demystifying Brexit: The 'ins & outs' of the EU referendum
Some 86 percent of those who voted for Leave said they would do so again in the latest survey, suggesting a drop in support for Brexit.
The results from the poll also confirmed the continuing support from younger voters for Remain and older voters for Leave.
Wales broke my heart by voting Brexit and turning us into Wangland, why would my homeland do this to me

— Elena Cresci (@elenacresci) June 29, 2016
Research from Cardiff University shows that Wales actually receives a net benefit of £245 million from the UK's membership in the EU, but voted to leave nonetheless.