Blair may face misconduct claim from families of soldiers killed in Iraq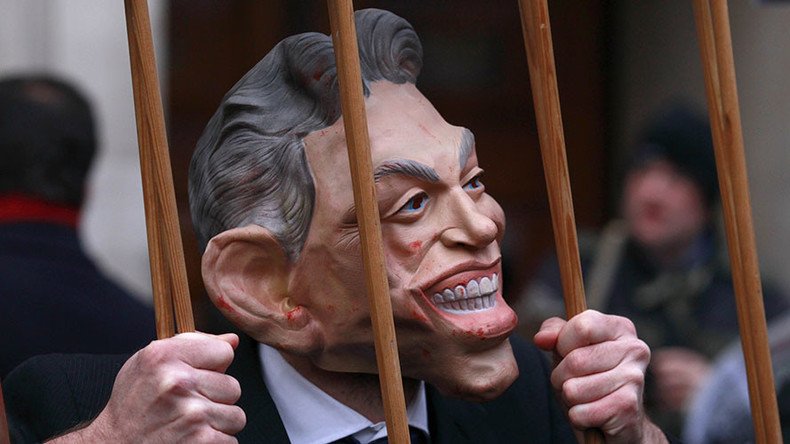 Families of British soldiers killed in Iraq plan to launch legal action against Tony Blair for misconduct if the Chilcot report finds the former prime minister misused intelligence in taking the country to war.
General Sir Michael Rose, a retired officer who has been advising the families of slain and injured servicemen told the BBC earlier this week that the families were preparing to launch a civil action against Blair.
"The families want to see justice. If it proves as a result of reading the report that there was a dereliction of duty or malfeasance in a public office — for example that intelligence was negligently handled — then of course they will take action," he said.
The families of some of the 179 soldiers killed during the Iraq conflict have instructed lawyers to examine the report, which was published Wednesday morning, for grounds to take the former PM to court, the Times reports.
In May, the bereaved father of one army serviceman killed in a roadside bomb blast told RT that if the report finds that the troops were provided with inadequate equipment, the Iraq Families Action Group, which is seeking justice from the UK authorities on behalf of the servicemen killed in Iraq, intends to take Blair and/or other officials involved to court.
"Whether it has to do with suing Tony Blair himself or the Ministry of Defence over equipment we will have to wait until the report comes out to see what it says about it," Roger Bacon told RT.
Speaking at the release of the much-anticipated report, which was commissioned in 2009, Sir John Chilcot said "planning and preparations" for the invasion and subsequent eight-year occupation were "wholly inadequate."
"We have concluded that the UK chose to join the invasion of Iraq before peaceful options for disarmament had been exhausted," Chilcot said.
"Military action at that time was not a last resort."
Last week prosecutors at the International Criminal Court (ICC) ruled out putting Blair on trial at The Hague. The ICC said in an official statement that although prosecutors would trawl through the 2.6 million-word, 13-volume report for evidence of war crimes committed by British troops, the decision to go to war was outside of the court's remit.
You can share this story on social media: