Chilcot boycott: Grieving service families threaten to reject Iraq report 'whitewash'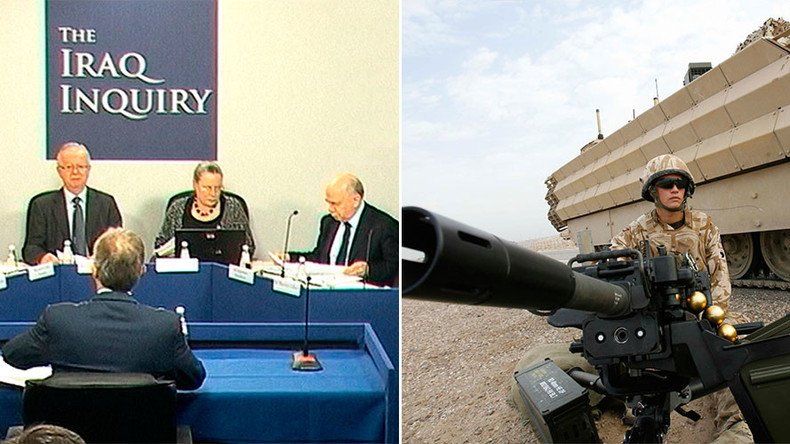 Families of soldiers killed in Iraq are threatening to boycott the Chilcot Report, branding it a 'whitewash.' The news comes amid fears that soldiers could be investigated while war leaders escape scrutiny.
Some of the relatives of the 179 British service personnel killed during the Iraq War have long expressed concerns over the long-delayed inquiry, due to report on Wednesday.
"It will be a whitewash. I'm absolutely disgusted. I'm not going because it will be a whitewash," Julia Nicholson, whose son Gary died in a plane crash along with ten others in 2005, told the Daily Mail on Monday.
"Tony Blair has got blood on his hands. He will have covered his back and [George W.] Bush's back," she added.
Another bereaved mother, whose son was among the youngest killed in the war, said she would not be attending Wednesday's publication.
"It's been horrendous, I'm very apprehensive about this. This man [Blair] has put 179 kids to the slaughter - there's no justice," Janice Procter, whose son Michael Trench was 18 when he was killed, told the Mail.
"It [the report] is not going to give me any closure or comfort. I'm not going down on the day. I'm not going to waste two hours of my life reading it."
Crimes of aggression
The relatives raised their concerns as the International Criminal Court (ICC) appeared to suggest that while soldiers could be tried for torture and abuse if the report finds it occurred, the war leaders of the era will not face charges under current rules.
On Monday, a spokesman for PM David Cameron said that leaders, not soldiers, should be under scrutiny.
"The purpose of the report was about examining the decision-making at senior levels in the run-up to and during involvement in Iraq. It wasn't about punishing our soldiers who served with bravery and dedication," he argued.
The ICC, however, is not yet able to try those accused of the 'crime of aggression' under international law.
According to the court, the issue hinges on whether the court will be able to "exercise jurisdiction" over cases of "aggression," which it defines as a "crime committed by a political or military leader which by its character, gravity and scale constituted a manifest violation of the [United Nations] Charter."
Although there is support for such a move, the decision to include it will not be made until January 2017.
'Parliament on trial'
Newly-promoted shadow Wales minister and long-time opponent of the post-9/11 wars Paul Flynn MP has called for proper provisions to be created for families to air their grief.
Recapping in a blog on his website on Sunday, Flynn said "Parliament is on trial" over Chilcot and Iraq.
In a speech in the Commons on Thursday he warned "those who are likely to be accused by the Chilcot report have already employed lawyers to go over their defenses."
He said Parliament must take "responsibility for a decision taken in this place in 2003 that resulted in the deaths of 179 of our brave soldiers, probably in vain, and the deaths of an uncounted number of other people."
You can share this story on social media: