Queen calls for calm but never mentions Brexit in opening Scottish Parliamentary session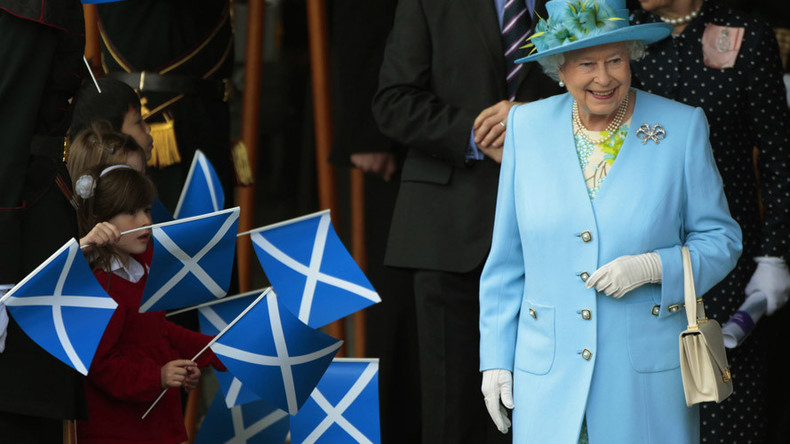 Queen Elizabeth II avoided making any direct comments on last week's historic Brexit vote as she opened a new session of the Scottish Parliament, but stressed the importance of staying "calm and collected" in a "complex and demanding" world.
This marked the fifth term of Scottish Parliament formally opened by Britain's head of state in Edinburgh. This session comes at a rather turbulent time, politically speaking.
The Queen remained true to the practice of royal neutrality and did not mention the Brexit referendum despite being given the opening to do so by Holyrood's presiding officer, Ken MacIntosh, who brought up Brexit in his introduction of the monarch, noting that the last few "weeks of unprecedented political turbulence" had "borne witness to the politics of hate."
He also referred specifically to the murder of Labour MP Jo Cox and the mass shooting at a gay nightclub in the US city of Orlando before asking her majesty to address the parliament.
The Queen avoided mentioning any of these issues explicitly, but did call on political leaders to take time for "contemplation."
"Of course we all live and work in an increasingly complex and demanding world, where events and developments can and do take place at remarkable speed. And retaining the ability to stay calm and collected can at times be hard.
"As this parliament has successfully demonstrated over the years, one hallmark of leadership in such a fast moving world is allowing sufficient room for quiet thinking and contemplation, which can enable deeper, cooler consideration of how challenges and opportunities can be best addressed."
Despite the challenges that lay ahead of the Scottish Parliament, MacIntosh's speech was one full of optimism. "We have five years to make a difference, five years to make Scotland a fairer, kinder and more prosperous country, five years to build a better place for us all to live, government or opposition, front or back bench, each one of us has something to contribute," he said.
MacIntosh also echoed the words of the late Jo Cox, saying "We have far more in common than what divides us."
Scotland's first minister, Nicola Sturgeon, looked to the future positively as well at a time when she is facing a fight to secure Scotland's relationship with the EU.
The majority of people in Scotland voted to remain in the EU, and Sturgeon has said that a new referendum on Scottish independence is "highly likely" to take place.
READ MORE: Scotland's Sturgeon hits dead end in talks on EU status
She told parliament that MSPs had been given the "precious opportunity to contribute to building a better country – and build it we will."
"To do so we must be bold and ambitious. We must show courage and determination. Our collective commitment to the people of Scotland today is that we will not shy away from any challenge we face, no matter how difficult or deep-rooted," she added.
Sturgeon noted that Scots come from a wealth of nations and it is a "privilege" to have them living here.
"We are so much stronger for the diversity that shapes us, we are one Scotland and we are simply home to all those who have chosen to live here," she said.
Meanwhile tens of thousands have taken part in the March for Europe in London on Saturday, calling for Britain to remain part of the EU.
READ MORE: Anti-Brexit protesters hit streets of UK capital London