Murdoch and Dacre... press barons and Britain's real kingmakers?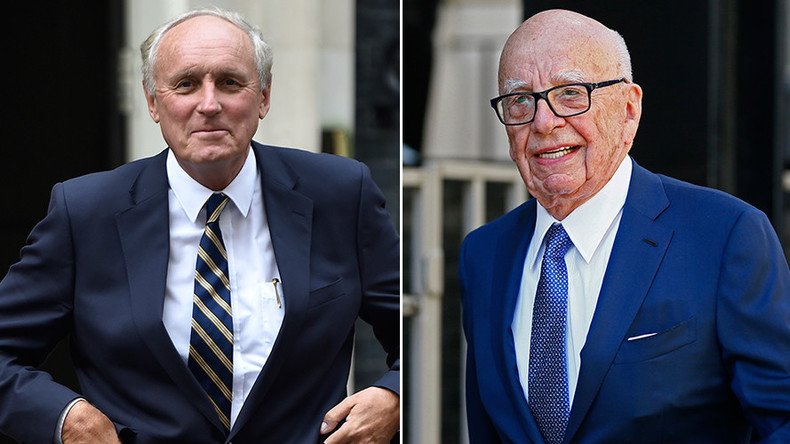 Media barons Paul Dacre and Rupert Murdoch had a hand in the withdrawal of Michael Gove's support for fellow Brexiteer Boris Johnson as Tory leader, a leaked email suggests.
In an unexpected turn of events on Thursday, Gove, the justice secretary, backtracked on his support for Johnson as the next Conservative Party chief, saying "Boris cannot provide the leadership or build the team for the task ahead," and announced he would run for the leadership himself.
Hours later, Johnson ruled himself out of the top job – a position he is long thought to have strived for – saying he is not the right person to unite the party.
Gove had been widely expected to run on the same ticket as Johnson, after the pair successfully led the UK's 'Leave' campaign.
So what caused Gove to change his mind?
A leaked email from Daily Mail columnist Sarah Vine, Gove's wife, suggests it could be because Johnson did not have the support of either Daily Mail editor Paul Dacre or media mogul Rupert Murdoch.
"One simple message: You MUST have SPECIFIC assurances from Boris OTHERWISE you cannot guarantee your support. The details can be worked out later on, but without that you have no leverage," read the email, leaked by a member of the public to a number of news outlets.
"Crucially, the membership will not have the necessary reassurance to back Boris, neither will Dacre/Murdoch, who instinctively dislike Boris but trust your ability enough to support a Boris Gove ticket. Do not concede any ground. Be your stubborn best. GOOD LUCK."
It would appear that Dacre and Murdoch have appointed Gove as their next Prime Minister. Not clear yet who they want to run Labour Party.

— Peter Lawless (@excopperas) June 30, 2016
Top tip for the UK: save time and effort on pointless leadership bids and elections. Just ask our overlords Murdoch & Dacre who will be PM.

— Hazel Wilde (@HazelWilde) June 30, 2016
Murdoch...Dacre...Gove friend of both...Boris's private life...wonder if there might be ...dots to be joined?

— Nick Robinson (@bbcnickrobinson) June 30, 2016
The Gove camp has denied claims the press barons influenced a decision to withdraw support, saying the problems with Johnson were organizational and managerial.
Sources also dismiss speculation Gove abandoned Johnson because he felt he was going to backtrack on Brexit or not negotiate strict free movement rules between Britain and the EU.
The UK's top-selling national newspaper, the Murdoch-owned Sun, and the Daily Mail, campaigned vigorously in favour of Brexit.
Speaking at a Times event on Tuesday, Murdoch said: "I'd be happy for Michael Gove to get it [the Tory leadership]."
Murdoch is no stranger to being in close relationships with those in power.
His friendship with former Prime Minister Tony Blair was seen to have had a very real impact on the political process in the UK, with the Sun backing Labour in every election Blair fought.
Murdoch is also said to have pushed Blair hard to back the former US President George Bush in invading Iraq.
They also had a more personal relationship, with Blair reportedly being the godfather to one of Murdoch's children. However, their relationship collapsed when allegations Blair had an affair with Murdoch's wife came to light.
Dacre has long wanted Gove to be the next prime minister. The Goves are close friends with Daily Mail proprietor Lord Rothermere and his wife Lady Rothermere.
Dacre, who has been called "The Robert Mugabe of Fleet Street," has been the editor of the Daily Mail for 20 years.
The newspaper is famous for its conservative social values and narratives based around the fears and paranoia of its readership.
Dacre is famed for his "Vagina Monologue" news meetings, for their reliance on one particular expletive.
You can share this story on social media: