Class war? Bitter social divide was major factor in vote for Brexit, study shows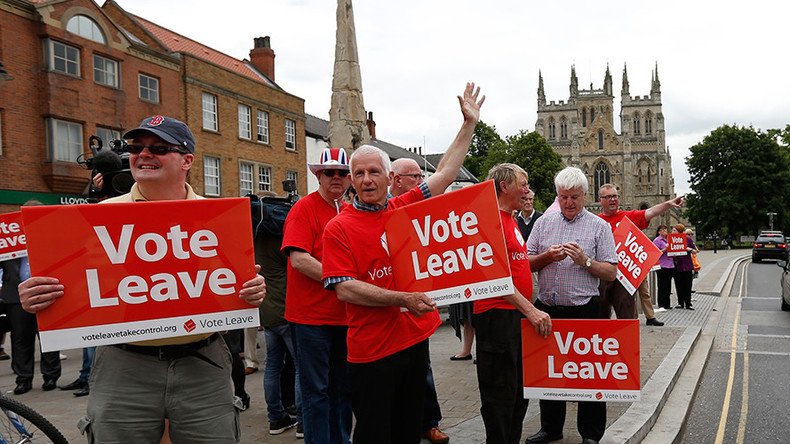 Austerity, class divides, and the death of social mobility was in large part behind the UK's decision to vote 'Leave' in the Brexit referendum, according to a recent national attitude survey.
NatCen Social Research's findings focus on attitudes in the run-up to the vote and found high levels of anti-establishment feeling over issues like bureaucracy, immigration and governance.
The pollsters also claim that while 60 percent of Britons consider themselves working class – the same number as in 1983 – there is entrenched pessimism about being able to progress up the social ladder.
Of 4,300 people asked, over three-quarters thought the class gulf was either "very" or "fairly" wide, while nearly three in four thought that it was "fairly" or "very" hard to move up in class.
The study says this is a rise of 65 percent over the last 11 years.
The investigation also found that people often remain attached to a working class identity even if they are in managerial roles.
Report author Miranda Phillips told the Independent newspaper on Thursday that what they found "chimed with some of the [post referendum] discussions on social division."
"People find it harder to move between classes than they used to feel and people with working class identity are more likely to feel that."
On the critical question of immigration, she argued: "We know how people feel about their class correlates to how they feel about immigration."
"Even if they're in a managerial or professional job, if they feel working class they are more likely to be anti-immigrant in their views.
"That was one of the key factors in the referendum and that may help to explain some of the divisions."
However, anti-immigration feeling is also mixed up with a sense that public funding should not be cut and, by four out of every 10 people polled, a feeling that more should be spent on benefits – the highest support for welfare since 2003.
The growth in support for helping the poorest, however, was contradicted by a 45 percent backing for cut in benefits for unemployed people. Six out of 10 said limits should be placed on how long people receive unemployment benefits.
You can share this story on social media: