Britain 'over promised & under delivered' to troops in Basra – former Iraq general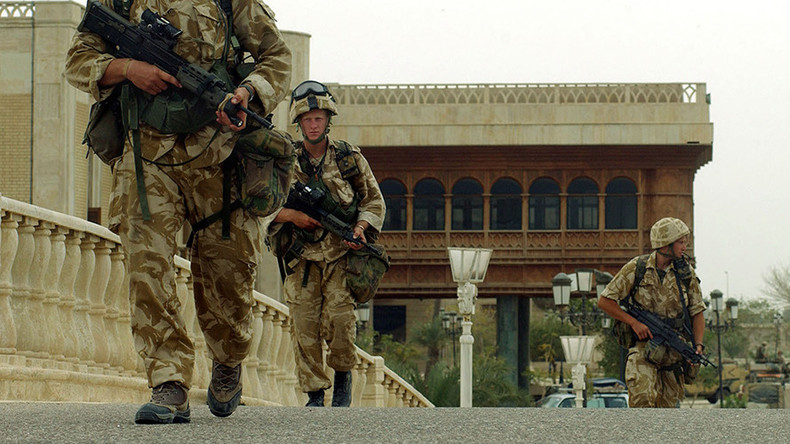 Ahead of the release of the Chilcot Report, which will examine the UK's role in the Iraq war, a former British general who led troops in Britain's Basra operation has said the military was overstretched and under-equipped for task it was given.
Major General Graham Binns, who once headed the UK's 7th Armoured Brigade, also known as the Desert Rats, told the BBC in a documentary due out on Wednesday that there had been "no coherent plan" for the operation.
The southern city of Basra was Britain's area of responsibility during the post-war occupation following the American-led war of 2003.
Binns described some of the inadequate equipment given to the British troops, including the much-maligned Snatch Landrovers, which were branded "coffins on wheels" by troops.
"The vehicles that we were using, the Snatch were not up to the job. They didn't have adequate levels of protection and we were slow to replace them and provide adequate protection to our people," Binns said.
However, he maintained that the troops were there for the right reason – regime change – although this was not the original rationale for the war.
"I think it was entirely the right thing to do at the time yeah. To remove the regime. I just don't think we resourced it and had a plan that would to replace it with something else," Binns said.
The documentary will also feature testimony from Hans Blix, the former chief inspector of the UN's Monitoring, Verification and Inspection Commission, who headed the efforts to find weapons of mass destruction (WMD) before the 2003 invasion – a search that ended in vain.
Blix told interviewers that then British Prime Minister Tony Blair "did not represent the reality" when he made a case for war based on the claim that WMD were at the disposal of the Iraqi regime.
The intelligence that claim was based on has long been said to have been groundless, another issue which the Chilcot report is expected to address.