UN human rights chief urges Britain to act over post-Brexit 'xenophobic' attacks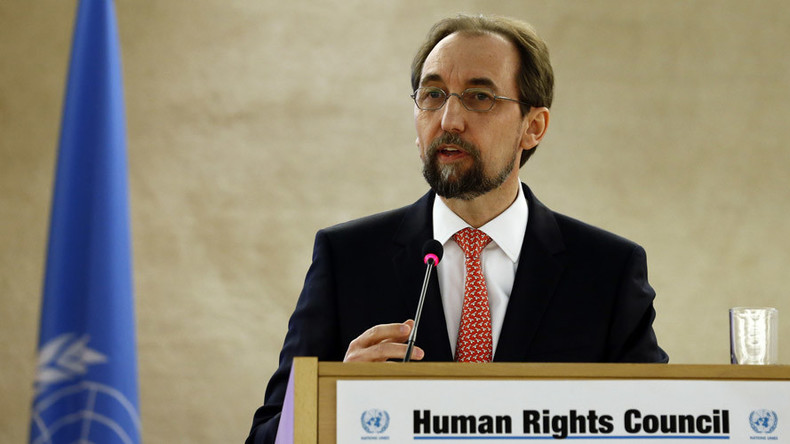 UN High Commissioner for Human Rights chief Zeid Ra'ad Al Hussein has urged British authorities to act to stop rising "xenophobic attacks" following the Brexit referendum and ensure all those suspected of racist attacks are prosecuted.
"I am deeply concerned at reports of attacks and abuses targeting minority communities and foreign citizens in the United Kingdom over the last few days," said Zeid.
"Racism and xenophobia are completely, totally and utterly unacceptable in any circumstances."
Scores of people have taken to Twitter using the hashtag #PostRefRacism to document the racist abuse they have received or witnessed on Britain's streets since Thursday's Brexit vote.
Flyers saying "no more Polish vermin" posted in letterboxes, protesters holding signs reading "Rapefugees not welcome" and neo-Nazi stickers plastered in public places are some of the examples being documented on social media.
Just seen this of racist abuse on a Manchester tram, and I'm heartbroken and ashamed this is happening in my city https://t.co/3XwmKZucZ5

— Becca Reilly-Cooper (@boodleoops) 28 June 2016
This evening my daughter left work in Birmingham and saw group of lads corner a Muslim girl shouting "Get out, we voted leave". Awful times

— Heaven Crawley (@heavencrawley) June 24, 2016
Some updates from our Facebook page. Spanish and Turkish restaurants have their windows smashed in #PostRefRacismpic.twitter.com/IBBG02aYoG

— Post Ref Racism (@PostRefRacism) June 27, 2016
RT 🔒My friend, a postman and trade union shop steward in W London has been asked if he is "going home" 21 times already #Brexit

— A revolting migrant (@KojoRTE) June 25, 2016
2 brits waving the English flag, heared us talking in romanian and said: We voted you out. Go home, u f imigrants! #brexit#euinuk#worried

— Ben Zen (@europescu) June 25, 2016
"F*cking foreigner, go back to your country": just watched this outrageous racist incident in #Hackneyhttps://t.co/87rqFKIhOv

— Shulem Stern (@ShulemStern) June 24, 2016
@PostRefRacism Yday morning a woman called me a "dirty paki", "scum" and said "pakis need to be rounded up and shot" among other insults

— Ayesha (@ayesha_sk) June 26, 2016
Polish ctr in my Hammersmith neighbrhd smeared w graffiti overnight. First attack in its 50 yr history. Depressing pic.twitter.com/1cfmQzMCEd

— Zanny Minton Beddoes (@zannymb) June 26, 2016
Since last week's Brexit vote, reported hate crimes have risen by 57 percent and the Metropolitan Police force has been put on heightened alert, according to the Huffington Post.
The founder and director of Faith Matters, an interfaith group that works on countering extremism projects, says the result of the EU referendum has seen an increase in anti-immigration rhetoric.
Fiyaz Mughal says the Brexit vote "seems to have legitimized the prejudice of some people to the point where they are verbalizing and targeting people at a street level who are visibly different."
"This is England 2016 and this is totally unacceptable," he added.
Speaking before the Brexit vote, Zeid condemned those who "threaten" to leave the EU and other international institutions.
"Those calling for departure have seemingly already fled their minds from the urge to protect the world from the untold sorrow and miseries which twice swept it, and brought about the creation of many of these very institutions," he said.
"When working for the collective benefit of all people, everywhere is apparently losing its ardor, and features only in empty proclamations swelling with unjustified self-importance and selfishness - then do we really still have an international community? When the threads forming it are being tugged away and the tapestry, our world, is unravelling?
"Or are there only fragmented communities of competing interests - strategic and commercial - operating behind a screen of feigned allegiance to laws and institutions?"
In the House of Commons on Monday, MPs condemned the spate of racist attacks in recent days.