Corbyn digs heels in, appoints new Labour shadow cabinet amid mutiny
Published time: 27 Jun, 2016 10:23
Edited time: 27 Jun, 2016 15:56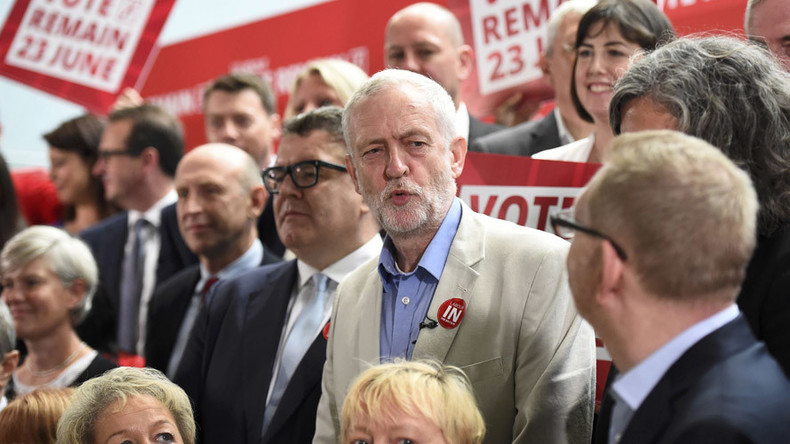 Labour Party leader Jeremy Corbyn has unveiled his newly reshaped cabinet, promoting key allies to his top team as the revolt against his leadership intensifies in the wake of the EU referendum vote.
On Monday morning, deputy leader Tom Watson reportedly told Corbyn he would not be joining his new cabinet, saying the leader "no longer commands Labour members' support."
A total of 41 Labour front benchers have handed in their resignation.
Business secretary and shadow first secretary of state Angela Eagle is one of the latest to quit.
In a statement, she said the party needs a leader "who can unite rather than divide," saying he has "lost the confidence of colleagues."
She says Corbyn should examine his conscience and "go with dignity."
"I think he should realise this isn't about him - it's about the country and about steering the Labour family through these times so we conserve our constituents and our country properly," she told Sky News.
Eagle has not ruled out standing for the leadership herself.
Asked if she will, she says: "I think today is about trying to restore credibility to the Labour Party. I don't think today is about speculating."
Others who have resigned include Shadow Foreign Minister Diana Johnson, Shadow Civil Society Minister Anna Turley, Shadow Defence Minister Toby Perkins, Shadow Cabinet Office, Scotland and Justice Minister Wayne David, and Shadow Consumer Affairs and Science Minister Yvonne Fovargue.
Taking their places in the new Labour line-up are:
Shadow foreign secretary - Emily Thornberry
Shadow health secretary - Diane Abbott
Shadow education secretary - Pat Glass
Shadow transport secretary - Andy McDonald
Shadow defence secretary - Clive Lewis
Shadow chief secretary to the Treasury - Rebecca Long-Bailey
Shadow international development secretary - Kate Osamor
Shadow environment food and rural affairs secretary - Rachel Maskell
Shadow voter engagement and youth affairs - Cat Smith
Shadow Northern Ireland secretary - Dave Anderson
On his Facebook page, Corbyn said the team "had their work cut out for them."
"With a range of younger MPs, women and minorities and people from working class backgrounds, the most diverse Labour shadow cabinet ever can speak for all of Britain," he said.
The appointments come after a turbulent Sunday, which began with Corbyn sacking Shadow Foreign Secretary Hilary Benn after he told Corbyn he had lost confidence in him.
A motion of no confidence in Corbyn, tabled by Labour MPs Dame Margaret Hodge and Ann Coffey, is set to be considered at a meeting of the Parliamentary Labour Party (PLP), with the possibility of a secret vote on Tuesday.
In a defiant statement, Corbyn warned: "Those who want to change Labour's leadership will have to stand in a democratic election, in which I will be a candidate."
He added: "I was elected by thousands of Labour Party members and supporters with an overwhelming mandate for a different kind of politics."
Former Shadow Education Secretary Lucy Powell, who resigned on Sunday, said it was not a "planned coup" against Corbyn, but instead a reaction to the "seismic" events which have shaken Westminster, namely the EU referendum result and Prime Minister David Cameron's resignation.
She said: "I don't think it's sufficient to say 'I have the support of the members.' A leader of the Labour Party, a leader of any political party, has to command both the support of the membership as well as the support of the Parliamentary Labour Party."
Thousands of people are set to march on Parliament Square on Monday in support of Corbyn. More than 3,000 supporters have pledged to attend the demonstration, called #KeepCorbyn.