'Let's not be hasty': Despite EU push, UK politicians say no need for quick Brexit (VIDEO)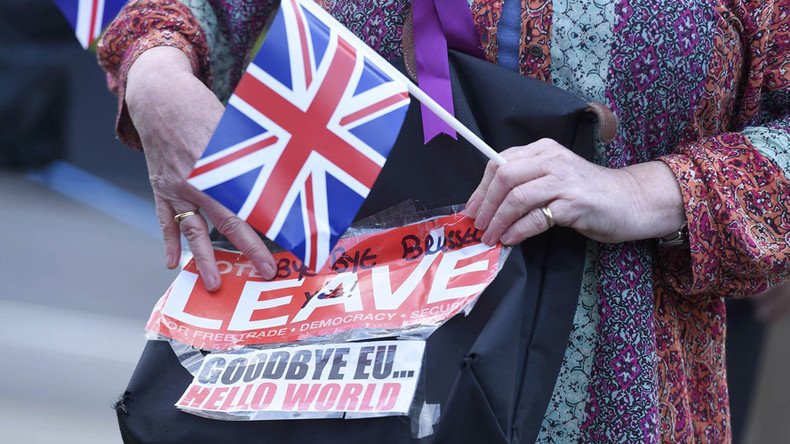 British politicians, including strong advocates of the Leave campaign, say there's no rush in starting the process to exit the European Union.
The people had their say Thursday, voting 52 percent to 48 per cent in favor of parting ways with the EU, giving the British government the green light to begin 'divorce' proceedings.
However, there is a sense of reluctance on the part of many, including Brexit-backer Boris Johnson, even to consider invoking Article 50 for some time yet.
Johnson, who was vocal on what he called the "anti-democratic absurdities of the EU" during the campaign, says there's no rush in fulfilling the will of the people.
"In voting to leave the EU it's vital to stress that there is now no need for haste," the former mayor of London said.
"And as the prime minister has just said, nothing will change over the short term except that work will have to begin on how to give effect to the will of the people and to extricate this country from the supranational system."
Pro-Brexit campaigner and Lord Chancellor Michael Gove also said prior to the referendum that Britain wouldn't want to invoke Article 50 for at least two years because they would need to see what sort of deal was on the cards before entering official talks.
Prime Minister David Cameron said negotiations wouldn't begin until he resigns in October and a new leader is elected.
Chief executive of the Leave campaign Matthew Elliott echoed this sentiment, saying there was no rush to get out.
"We don't think there is a need to swiftly invoke Article 50," he told Reuters on Saturday. "It's best for the dust to settle over the summer and during that time for there to be informal negotiations with other states," he added.


The British people have delivered their instructions. We will make it work #EUref

— Sajid Javid (@sajidjavid) June 24, 2016
Business Secretary Sajid Javid told the BBC on Sunday that the UK should not rush into talks with the EU about its withdrawal from the bloc.
He is holding a meeting with business leaders this week to tell them "there's no need to be panicking."
READ MORE: Let's get this over with: Founding EU members want quick divorce from UK
The EU, however, is singing a different tune, telling Britain to carry through the people's decision promptly.


European Commission President Jean Claude Juncker, European Parliament President Martin Schulz, European Council President Donald Tusk and Dutch Prime Minister Mark Rutte issued a statement in the aftermath of the result saying that they expected the UK to initiate its exit "as soon as possible, however painful that process may be."
Other group leaders in the European Parliament echoed these words, though German Chancellor Angela Merkel came forward as the exception to this push for a prompt Brexit.
"Quite honestly, it should not take ages, that is true, but I would not fight now for a short time frame," Merkel told a news conference.
"The negotiations must take place in a businesslike, good climate," she said. "Britain will remain a close partner, with which we are linked economically."
The German Vice Chancellor Sigmar Gabriel told the Handelsblatt newspaper that Britain would not be offered any enticements to stay in the EU.
"The British have now decided to go," he is quoted by Reuters. "We will not hold talks about what the EU can still offer the Britons to kep them in."
READ MORE: More Brussels bureaucracy: 'Brexit may take up to 10 years to implement'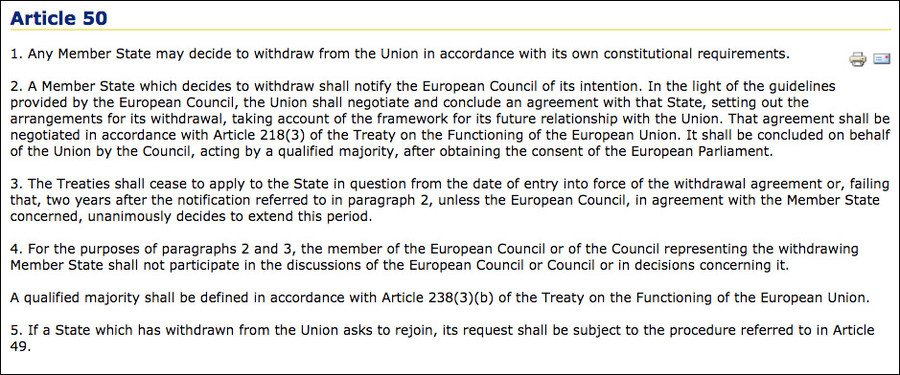 Article 50 needs to be invoked to initiate the leaving process. This can be done by the British government writing a letter to the president of the European Council or through an official statement at a meeting of the European Council.
As no one has ever invoked Article 50, there's a strong sense of uncertainty around how the process will play out. Once invoked though, the Article will set into motion a two-year negotiation period which can be extended if both the European Council and the British government decide to do so.
There is no requirement, however, for the Article to be invoked by a certain time and until then there is a possibility that Britain could back out of the exit.
If, however, the government wants to carry out the nation's exit from the bloc it would seem this relaxed approach could prove risky, as other factors may arise to stop the move. For example, Scotland and Northern Ireland may have the option to veto the exit.
Scotland's First Minister Nicola Sturgeon told the BBC Sunday that she would consider asking the Scottish parliament to veto Brexit, saying "of course" she would ask MSPs to refuse to give their "legislative consent" to the move.
She had earlier indicated that steps were already underway to explore holding a second Scottish independence referendum.
Meanwhile calls for a second referendum continue to grow - a petition to parliament has reached more than 3 million signatures.
READ MORE: Petition for UK Brexit revote hits 3mn signatures in just 2 days
You can share this story on social media: