Farage sorry for Brexit 'bullet' speech a week after Jo Cox murder (VIDEOS)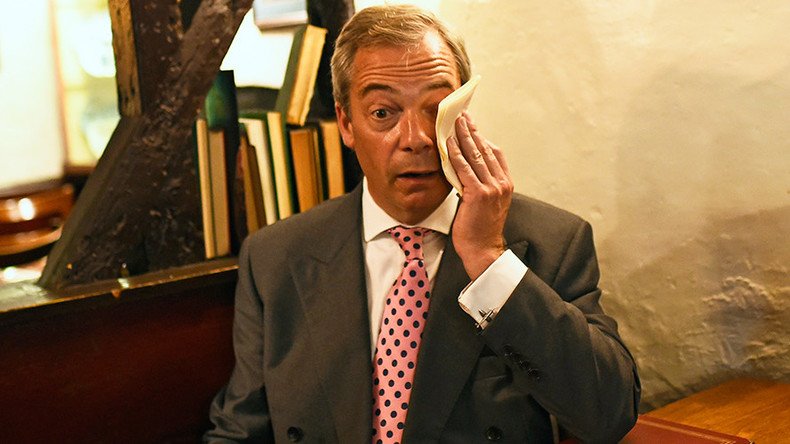 UKIP leader Nigel Farage has apologized for his choice of words in a Brexit victory speech during which he hailed achieving 'independence' from Europe "without a single bullet being fired."
The right wing politician's controversial comments come a week after Remain supporter and Labour politician Jo Cox was shot dead in broad daylight in her constituency.
His reference has been branded "insensitive" and "shameful" by some political commentators.
As Britain's decision to vote Leave in the EU referendum became apparent, Farage told supporters that the outcome was a "victory for ordinary people."
"We have fought against the multinationals, we fought against the big merchant banks, we fought against big politics, we fought against lies, corruption and deceit," he said.
He added: "And we will have done it without having to fight, without a single bullet being fired."
Hours later Farage was much less animated when rowing back on his "bullet" comment and apologized for his wording.
"Normally, normally to get independence you have to fight for it. We didn't have to fight for it, we didn't have to don khaki but I understand what you're saying and if that caused any offence, I apologize," he told reporters in London.
Earlier, Farage indicated a prominent and controversial advert from the official Leave campaign, a group with which he was not involved, was misleading. The ad implied that £350 million a week in funding from the UK to the EU would be earmarked instead for the NHS.
Leave campaign buses had been emblazoned with the funding strategy in the lead up to the referendum which Farage, a long-time Eurosceptic, acknowledged was a "mistake".
Farage said guaranteeing the money for healthcare coffers was "one of the mistakes I think the Leave campaign made."
You can share this story on social media: