Bookies' favorite for PM, Boris, says 'Britain will continue to be a great foreign power'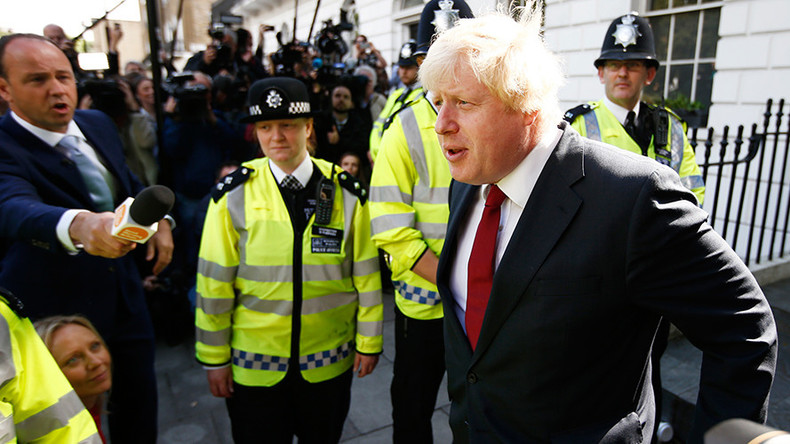 Boris Johnson has attempted to reassure Remain voters the UK won't go down a path of isolationism now it has voted to leave the European Union.
The man tipped to be Britain's next prime minister gave a far from gloating victory speech on Friday morning.
Speaking at the Leave campaign's headquarters, the former London Mayor rebuffed claims the UK will become more isolationist outside the EU. "We cannot turn our backs on Europe. We are part of Europe," he said.
"I want to reassure everybody that as a result of this Britain will continue to be a great foreign power."
As he spoke, the pound plummeted to its lowest level since 1985.
Johnson sought to reassure Britain's youth in particular, after 75 percent of the Brits under the age of 24 who voted, backed remaining in the EU.
"Young people of this country can look forward to a more secure and prosperous country if we take back the control of the foundation of our economic prosperity," he said.
Addressing concerns that a Leave vote will stoke the flames of xenophobia in the country, Johnson said the outcome will "take the wind out of the sails of the extremists and those who play politics with immigration."
Johnson is the bookmaker's favorite to replace Cameron as prime minister in October.
David Cameron announced his planned resignation on Friday morning after the UK's shock decision to leave the EU.
In his victory speech, Johnson was gracious to his old school friend who had become a fierce political rival. "[Cameron is] a brave and principled man who has given superb leadership of his party and our country for many years," he said.
"It was his bravery that gave this country its first referendum [on the EU] in 41 years," Johnson added.
Johnson and Cameron both attended Eton College, an elite British private school, where they had a history of rivalry.
Johnson, the idiosyncratic Oxford-educated former journalist, was born in New York to English parents.
His father was a member of the European Parliament and Johnson spent many of his formative years in Brussels.
Boris, as he is universally known, has spoken of his love of that city. He can trace his cosmopolitan family history to Turkey, Switzerland and Russia and he has Muslim, Jewish and Christian ancestors.
Johnson didn't announce which side he was backing until February 21. Until then, British Prime Minister David Cameron believed he would back Remain.
The former London Mayor cuts a controversial figure in the UK, for his buffoonish persona and occasional outbursts.
Two months ago, Johnson won a competition for writing a poem in which he alleged Turkish President Erdogan had sex with a goat.
Most recently he faced strong criticism for comparing the EU to the super state envisaged by Nazi leader Adolf Hitler.