Run on banks? Brits rush to buy euros, dollars ahead of Brexit vote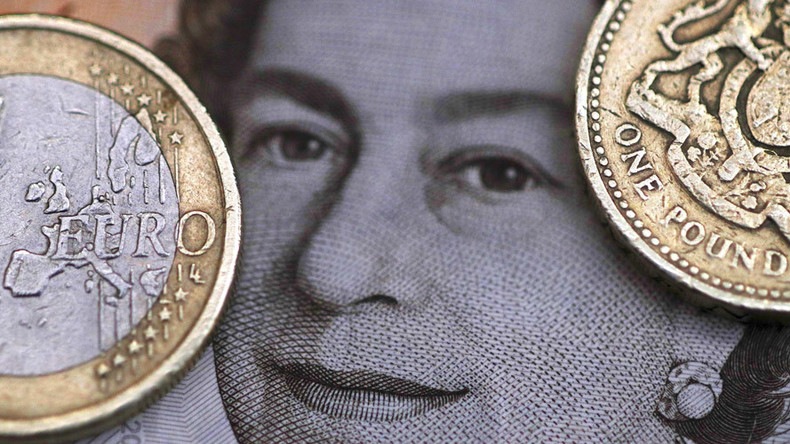 Thousands of Brits have rushed to buy foreign currency during the last week over fears the pound will drop more than 20 percent if the UK votes to leave the EU.
The Post Office reports sales of currencies are 74 percent higher this week than they were during the same week last year.
Market jitters over a potential Brexit have prompted some online money transfer companies to suspend services temporarily on polling day, while City hedge funds are paying for private exit polls so they can bet on the outcome of the referendum.
Post Office Travel Money accounts for a quarter of all foreign exchange transactions in the UK.
They report that branch sales of foreign currency were up 48.8 percent on Tuesday, while online purchases jumped by 381 percent.
The Post Office has allayed fears of a 'run on the bank', reassuring Brits it is well stocked and will not run out of foreign cash.
While many Brits have been steadily buying more foreign currency since the start of May, others have been investing in gold bars and bullion coins.
According to the Telegraph, searches for the phrase 'home safe' have skyrocketed on Google, and are 61 percent higher than the previous peak in November 2008, during the global financial crisis.
Royal Mint – which produces gold and silver coins – says its sales soared by a third in June. However, investment gurus are advising well-to-do Brits not to put their money in physical gold.
"If you're going to buy precious metal, you might as well buy a gold or silver investment fund, where you will get much better value for money due to economies of scale," said Wealth Club investment director Ben Yearsley.
As the currency markets prepare for a referendum outcome pollsters say is too close to call, some companies are halting trade altogether.
Startup money transfer website Azimo said it will temporarily suspend cash transfers from 06:00 BST on Thursday before polls open at 07:00 BST, until "things have settled down on Friday and we can safely trade again."
The billion-dollar startup Transferwise said on Tuesday it is taking similar measures, halting incoming pound transfers from 07:00 BST and outgoing transfers from 18:00 BST.
Britain's hedge fund industry will have the first insight into the outcome of the referendum.
City investment banks are paying roughly half a million pounds for private exit polls so they can bet on whichever way the vote goes.
An unnamed polling firm told the FT there is high demand for their services.
"Hedge funds have asked for exit polls and for hourly polls on the day. Banks are certainly commissioning polls for their own consumption that are never released," one pollster said.
While opinion polls are still split over the outcome, betting odds put the chances of a Remain victory as high as 80 percent.